One could describe Beth Hartmann's time with Iowa State as having come full circle. After graduating in 1989 with a degree in architecture and a minor in naval science, she bookends her career and retired from  her position as a teaching professor in construction engineering at Iowa State in June. 
During her 11 years of teaching at Iowa State, most might recognize her as teaching the construction engineering learning community and capstone course for civil and construction engineers as well as advising multiple student organizations. She coached the Green Energy Challenge team for 11 years. Most notably, the team has won this national competition six years in a row.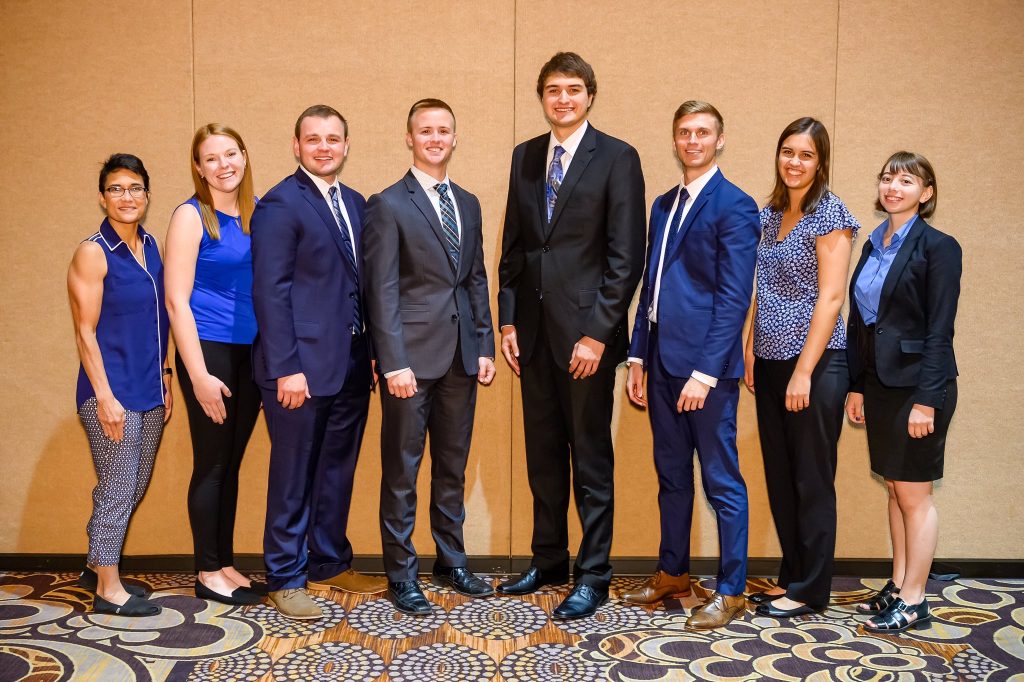 "Being able to teach first-year students and graduating seniors helped me better understand how to support students with their academics, personal and professional pursuits," Hartmann said.  "Additionally, serving as an adviser to student organizations and coaching competition teams allowed me to extend my influence outside of the classroom. I feel very fortunate to have been able to work with so many outstanding students over the years."  
Hartmann has a rich history ingrained at Iowa State. She and her husband got married in the Memorial Union's Campanile Room. She played softball at Iowa State and her two children are also Cyclones. 
Hartmann feels her decision to retire couldn't have come at a better time. While the entire world is putting life "on pause," Hartmann decided to do the same with her career and figure out what's next. 
"I'm only 54. And I'm retiring," Hartmann said. "I am telling everyone I'm retiring, but more accurately I'm taking a strategic life pause."
After completing her undergrad, Hartmann's plans to become a Navy pilot were changed due to a failed eye exam. It was then that a naval officer convinced her to go into the Civil Engineer Corps in the Navy. 
Upon completing the obligated amount of years, the Navy pays for a master's degree in full, which inspired Hartmann to pursue hers. After completing her master's in construction engineering and management in 1996, Hartmann decided to pursue a Ph.D. in civil engineering in 2016, with an emphasis in engineering leadership education. 
Hartmann was a Civil Engineer Corps Officer for 20 years before deciding to return to Iowa State, although it had been on her mind for quite some time—10 years to be exact. 
"I think that seed that was planted by my major professor, Jim Rowings, was the professor in charge of construction engineering when I got my master's," Hartmann said. "I think when Jim emailed me and asked me to teach, that really did spark something in me. And literally it was in the back of my mind for 10 years, and I really lucked out."
Hartmann made the quick decision to join Iowa State's faculty as she was searching for something else to fill her days once she completed her time with the Navy. 
"I felt like the transition for me was very easy," Hartmann said of the transition from the Navy to teaching. "Of course, I did not know how to teach college, I had to learn that. But I think the foundation was there for me, especially as you become a Senior Officer, you're training Junior Officers and other people that work for you."
After moving constantly for many of the years she and her husband were in the Navy, Hartmann felt like returning to Ames because "it felt like the right move." 
Including her time as a student, Hartmann has lived in Ames for 18 years, longer than anywhere else she's lived before. With a daughter who will be entering her fifth year at Iowa State and a son who is going to be a first-year student in the fall, Ames remains like the perfect place to stay for Hartmann until she decides her next move.