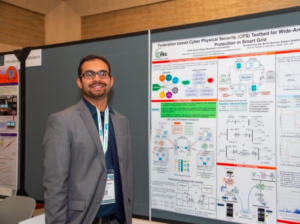 After completing an undergraduate degree in electrical engineering from the National Institute of Technology (NIT) Durgapur and working as a project assistant for one-year at the Indian Institute of Technology (IIT) Delhi, India, Vivek Kumar Singh began searching for opportunities to further his education.  This search eventually led him to Iowa State University in 2015. Singh is now a Ph.D. candidate in the Department of Electrical and Computer Engineering (ECpE) at the university. Singh says there is no place he would rather be.
"I think Iowa State is the best place to do your Ph.D. in the power system," Singh said. "It gives students immense opportunities to grow themselves and enrich their learning experiences through graduate seminars, research-oriented labs, and one-on-one mentoring from internationally recognized faculties."
Singh's recent work in the department revolves around cyber-physical security for the smart grid.  One of his projects involves developing attack-resilient controllers for wide-area protection and control (WAPAC) in power system cybersecurity.  This project explores possible scenarios where cyber-attacks could happen on the grid network, and how they can be detected and prevented in a timely manner. Singh is also working on developing a networked federation testbed (NEFTSec) platform to study power system cybersecurity by federating geographically-dispersed smart grid testbeds to develop a realistic attack-defense platform for performing cybersecurity experimentation in smart grid.
Singh says his research and the research of his peers is crucial to the security of the nation's power grid.
"Cyber-physical security research for the smart grid is a very hot topic and the current nation's top research and development priorities," Singh said. "Many researchers like me and my lab colleagues are burning the midnight oil to keep the lights on, as cyber threats are increasing on critical infrastructures like the power grid. I believe the outcome of these research projects will open a new paradigm to develop a secure grid infrastructure."
Singh has received support from several ISU faculty members during his time at ISU. One of these people is Singh's Ph.D. supervisor, ECpE Anson Marston Distinguished Professor Manimaran Govindarasu.
"(Govindarasu) has been mentoring me throughout my Ph.D. on personal, technical, and academic levels," Singh said. "He has constantly supported me through his feedback on developing advanced writing skills through high-quality research papers and proposals, effective management skills through team works and group projects, impactful presentation through conferences and seminar talks, and effective networking skills through research collaboration and technical discussions."
Singh said he has also found support from the Electric Power Research Center (EPRC).
"I think EPRC provides a great platform for connecting all students and professors who are working on energy infrastructure projects," Singh said. "I am thankful to Dr. Anne Kimber, Director of the Electric Power Research Center (EPRC), for her constant support and motivation to do good quality work. She has always supported me and our team while providing hands-on cybersecurity hacking exercises to EPRC industry members."
Singh said one of his key takeaways from his time at ISU so far is the essential relationship between academic research and industry.
"I strongly believe that academic research can't be accelerated into the marketplace without involving industries and utilities for tabletop discussion, and that's what EPRC has taught me," Singh said. "It bridges the gap between academic research and industry challenges by bringing everyone on the same page through the EPRC conference. It provides a platform to interact with industry partners, get valuable feedback from them, and get familiar with the ongoing research of other students and university professors."