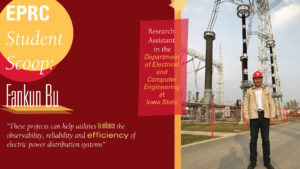 EPRC Student Scoop: RA Fankun Bu helps power grids run smoothly
With a goal to solve the existing problems in the power systems world today, research assistant Fankun Bu in the Department of Electrical and Computer Engineering at Iowa State University is working on four different projects revolving around helping the nation's power grid run smoothly. 
Bu began his adventure at Iowa State in January 2018. With a bachelor's and master's degree from North China Electric Power University, Bu was well-prepared to further his education — and traveled far, bringing him here to ISU.
Bu works with main professor Zhaoyu Wang, often working together throughout the span of Bu's many projects. Bu's four projects are regarding real-time modeling of distribution systems using data-driven grid-wise observability, data generation for interdependent natural gas and electrical power systems, VAR optimization enabling extreme integration of distributed solar energy and learning about dynamic interactions to enhance power system resilience.
According to Bu, the best part of the projects is sharing the ideas with others and proposing solutions to long-time problems utilities have been experiencing.
"These projects can help utilities to enhance the observability, reliability and efficiency of electric power distribution systems," Bu said. "My favorite part about the projects is that I can propose some novel ideas to solve existing problems that utilities are facing."
Within the Electric Power Research Center (EPRC) at Iowa State, where Bu's work is focused, both the industry and academia world are blended together to have the resources to research as well as the network to work with industries. 
"EPRC has talented and diligent group members," Bu said. "Also, it provides great opportunities to broaden my horizon."
For students in EPRC, having that network with industry members is an advantage that many power systems students at other universities don't have.