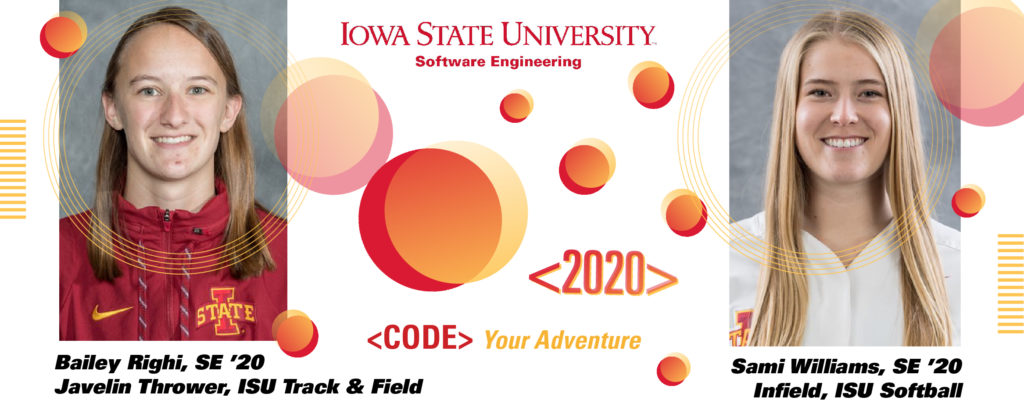 Two Software Engineering Program graduating senior student athletes are taking a new direction with their post-graduation plans. When the Covid-19 cancellations ended their respective spring sport seasons, the NCAA announced on March 30th that Division I schools would be allowed to offer their athletes an extra year of eligibility. Both Software Engineering (SE) student athletes have decided to make use of the extra year of eligibility with Iowa State University (ISU) Athletics and are enrolled in ISU Master's programs. Bailey Righi, an SE graduating senior, throws javelin for the ISU Track and Field team. Samantha (Sami) Williams, also an SE graduating senior, plays infield on the ISU Softball team.
Both student athletes have one thing in common. When asked what their secret to success is, they give credit to their planners. "I write it all down," confesses Bailey. She isn't shy about sharing how using her WiSE (Women in Science and Engineering) planner has helped her. Bailey even has used her planner use to answer job interview questions about her organization. "I color code everything… sport events, track events, club activities, meetings, school assignments… I set up reminders for them all." For someone who is "interested in everything", writing everything down in her planner and scheduling things electronically on her calendar to sync with her phone helps Bailey keep on track. Sami's answer is the same. "I am a firm believer in my planner. I make sure I have everything from assignment due dates to appointments… to practice times in that thing. This really helped me when my coursework included group projects because I was able to visually see what times I had available for meetings."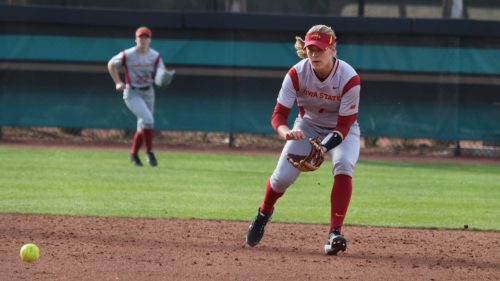 The original post-graduation plans for these student athletes have now been put on hold. For Bailey, this meant making the difficult decision to rescind her job offer from Nike. She is currently enrolled in the Computer Engineering concurrent Master's program offered through the Electrical and Computer Engineering Department and plans to return to campus in the fall instead of moving across country to her dream job on the west coast. For Sami, this means putting off her dreams of playing softball professionally for a little while longer. "My family's support is definitely something that helped me make this decision. I don't think my parents were ready to give up following the team around and watching us play just yet. The university supporting the student athletes definitely made my decision so much easier, as well." She has been accepted into the Master of Science in Information Systems program through the Ivy College of Business.
One of the biggest challenges for both of them has been the unknowns.  "I'm definitely a planner, so while all of this was going down, I was going a little crazy trying to plan for all of the potential situations. I finally had to let myself relax and wait until I received more information," says Sami. Bailey also finds the uncertainties challenging in decision making. "I'm in grad school doing the concurrent program in Computer Engineering.  I was going to finish that online while working at Nike. I have seven classes left and all of them I could take online. Now it's complicated…" says Bailey. She has since decided to stay on at ISU for another year and finish out her final season.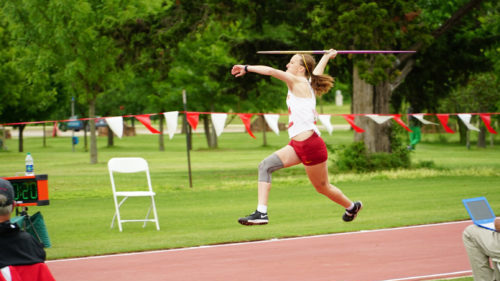 With their futures taking a new direction, the focus is shifting to their goals. For Bailey the goal is to break the school record in javelin throwing. It's what she needs to do to possibly place second or third in the Big 12 Conference and also make it to NCAA Regionals. Breaking the record means throwing 10 feet farther than her personal best. "Every year I got stronger, so I think I can do it," says Bailey. Her coach does, too. "The coach felt I was stronger at the end of my season than I'd ever been." Sami also gives one of her coaches, Courtney Martinez, credit for having a big impact on her as a person and a player. "She has challenged me as an athlete and a person, and she helped me grow as a leader." Sami looks forward to taking advantage of another year to explore the managerial side of software and build her leadership skills while playing softball. She also is hoping to pursue playing softball professionally. "Right before the season was cancelled, I was told that I might have an opportunity to be drafted by a professional team, and was considering whether or not I wanted to play professionally, so I am hoping that opportunity is still on the table for next year."
Both student athletes have had to get creative with their training now that things have been closed down. Bailey went home to Kansas City, Mo. to finish her online classes. She has enjoyed spending time with her younger sister who plays softball for Emporia State University in Emporia, Kansas. "I get to play catch. I have a quality softball catch partner now," shares Bailey with a quiet smile as we chat online. "We've been riding bikes… and I do Nike Training Club bodyweight workouts from the app on my phone or other bodyweight workouts with my sister." Sami, who calls Laguna Niguel, Calif. home, chose to stay in Ames to finish out classes. She knows exactly what she'll do when things get back to a new normal. "I definitely will be heading to the softball field when this is all over. We've had to get creative on ways to train without access to the equipment that we're used to. I'll also head to California for a bit to be with my family."
"You don't want to set a goal that's right in front of you. I know I'm capable of achieving more. I feel like that whole approach applies to my life story," says Bailey.  One thing is certain for these two goal-oriented, driven student athletes. While this life change up wasn't in their planners, they both see and are embracing the opportunities in this temporary redirection of their futures. An unexpected bonus year will allow them to pursue aspirations, dreams and goals both academically and on the field and track. "My favorite part about being a student athlete was having the chance to represent Iowa State while competing in softball. The fans are incredible, and it's awesome having such a great support system. I'm so thankful to have another year to represent the school and community," shares Sami.  It seems the same resilience and focus that has helped them succeed so far will serve them well as they navigate the new look of their future.
Visit here to learn more about other Master's concurrent programs available to SE students (listed at the bottom of the webpage).