Timothy Kimball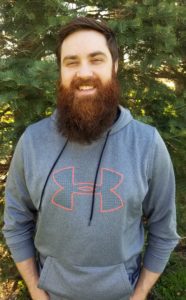 Major: Construction engineering
Hometown: Carlisle, Iowa
Clubs and activities: American Society of Heating, Refrigeration, and Air Conditioning Engineers student chapter (ASHRAE), National Electrical Contractors Association student chapter (NECA) and a teaching assistant for Con E 353 labs. 
Awards and honors: Dean's List multiple semesters, Master Builders of Iowa scholarships, Program of Study Award, NECA scholarships, Masonry Institute of Iowa scholarship, as well as other scholarships
Who was your most influential mentor while at Iowa State?
Jenny Baker, associate teaching professor of civil, construction and environmental engineering, and Beth Hartmann, teaching professor of civil, construction and environmental engineering
What would you consider your greatest accomplishments at Iowa State?
Graduating! It has been a really hard journey for me to get this far. I am a nontraditional student that is married with kids. I started my adventure with two kids and am graduating with two more! It has been really difficult to balance school, kids, family life and work, but I am proud to finally be able to graduate.  
What's your favorite memory of your time at Iowa State?
Late nights at Town Engineering working on projects. 
What's your favorite place on campus?
The Town Engineering building
What's your advice for first-year Iowa State engineering students? 
Be organized! This will really help you keep track of assignments and help you with time management.  
What do you like to do in your free time?
Spend time with my wife and kids, fish, camp and watch movies.  
What are your plans for after graduation?
I will be working full time for Baker Group as an electrical engineer.