Jacob Wheaton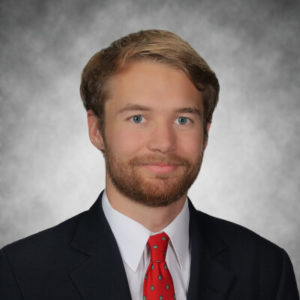 Majors: Materials engineering and French
Hometown: Robins, Iowa
Clubs and activities: Gaffers' Guild – President for three years, Leadership roles in Beta Sigma Psi Fraternity, Department of Materials Science and Engineering peer mentor for two years and research assistant for one year.
Awards and honors: World Languages and Cultures French Section Outstanding Senior, Dean's List every semester, Tau Beta Pi Engineering Honor Society
Who was your most influential mentor while at Iowa State?
My most influential mentor while at Iowa State has been my advisor, Andrea Klocke.  She has always been there helping me to realize my potential, while also providing much-needed advice. Andrea has always been there to help and support me. It has always meant a lot to me how much she cares for students.
What would you consider your greatest accomplishments at Iowa State?
I would consider my greatest accomplishments at Iowa State to be the leadership skills that I have developed through my involvement in various organizations – and the experience that I had as a visiting researcher this past summer at a research lab in France, combining the skills I have learned from both of my majors.
What's your advice for first-year Iowa State engineering students?
My advice to first-year students would be to get out of your comfort zone. Get to know your professors and classmates. Take classes outside of your major or even your college. Some of my favorite courses were entirely outside of my field of study. These are the things that I think made me truly enjoy my time here.
What is your favorite memory?
One of my favorite memories was being given the opportunity to work as a visiting researcher at the University of Rennes in Rennes, France, due to my work in the Gaffers' Guild with Steve Martin, Distinguished Professor of materials science and engineering, who later offered for me to continue doing research with him upon my return to Ames.
What are your plans for after graduation? 
I plan to continue my education and my current research here at Iowa State pursuing a Ph.D. in materials science and engineering working on glassy electrolyte materials for solid-state battery applications in Steve Martin's research group.