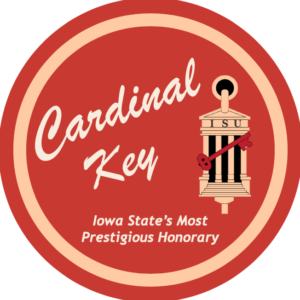 Nine College of Engineering students were selected as members of Iowa State's most prestigious honorary, Cardinal Key Honor Society.
Cardinal Key Honor Society selects students who embody four virtues: scholarship, leadership, service and character. No more than one-third of 1% of all juniors and one-half of 1% of all seniors are allowed admission.
The following Cyclone Engineering students are 2020 Cardinal Key inductees:
Rachel Junck, chemical engineering
Joseph Kim, industrial engineering
Hayden Lohse, construction engineering
Andrew Nurse, mechanical engineering
Stefan Peng, computer engineering
Nick Schiefelbein, mechanical engineering
Aayush Shah, electrical engineering
Kristine Skoby, chemical engineering
Evan Timmons, computer engineering
Justin Watkins, chemical engineering
Cardinal Key was founded in 1926 to recognize leaders across Iowa State University.