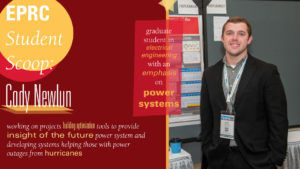 EPRC Student Scoop: Innovator and communicator Cody Newlun
Cody Newlun, a graduate student in the Department of Electrical and Computer Engineering (ECpE) at Iowa State University from Hastings, Nebraska, is a true innovator in the power world.
With a degree in physics from Hastings College, Newlun has an expansive background on mechanics and motion. While Newlun could go down many paths with a physics degree, he chose a very specific field — electrical engineering with a focus on power systems.
Newlun's choice to attend ISU for his graduate education was inspired by Dr. Anne Kimber, Director of the Electric Power Research Center (EPRC), because of her technical and motivating proposals and all the intricate research EPRC was conducting in Coover Hall.
"I chose Iowa State for graduate school because of the strong engineering programs they offer," Newlun said. "Before I joined I was able to communicate with the EPRC faculty and staff. I soon became interested in the research they were doing and decided to attend Iowa State to pursue my graduate studies in electrical engineering with an emphasis in power systems."
Newlun is currently pursuing his third year at Iowa State in graduate school — working on two projects with his main professor, Dr. James McCalley.
"I am involved in two projects with the Electric Power Research Center," Newlun said. "The first project was 'Re-building the Puerto Rico Electric System for Infrastructure Integrity' and concluded in May of 2019. The second project is ongoing and is titled "Adaptive Expansion Planning for MISO's Transmission Expansion Planning Process."
These projects are very impactful for people inside and outside of the EPRC world. In the Puerto Rico project, Newlun and his team are working to provide electricity in the case of a power outage from a natural disaster, specifically hurricanes. And in the MISO project, the team is building optimization tools to predict the future of the electric power grid.
"What's interesting about these projects is that they pertain to real-world systems and are designed to provide insight and tools for power system planners to evaluate what the electric grid system could look like in the long-term future," Newlun said.  
The electrical world is developing constantly and rapidly every single day. With Newlun's projects, the future of electricity can be a little more predictable by allowing scientists to have more access to the electric power grid, and the future will also be safer, providing back-up generation of electricity for those suffering from power outages due to natural disasters.
"The Puerto Rico project occurred in the wake of Hurricane Maria in 2017, which devastated the island's power system and caused long-term power outages. In this project, we were able to develop an expansion planning software that provided long-term electric infrastructure portfolios that were economic and hurricane resilient," Newlun said. "For the MISO project, we are utilizing a previously developed adaptive expansion planning framework to evaluate MISO's transmission expansion planning process. In general, both of these projects consist of building optimization tools that can provide insight for utilities, regulators, and/or policymakers for what the power system may look like in 10 to 30 years."
It is clear that Newlun's experience as a graduate student at Iowa State goes beyond the scope of any average student. But other than his dense research, Newlun is gaining valuable networking and communication connections in EPRC.
"I enjoy the interaction we, as graduate students, receive from the industry members of the Electric Power Research Center," Newlun said. "The Electric Power Research Center does a great job of connecting our academic-based research to our industry members and making our projects applicable and informative. I also enjoy the annual EPRC meeting where industry members from all over join in Ames to share updates on projects happening in research and industry."
Newlun's combination of innovations and communication are building him into a student with knowledge in many different aspects of engineering, providing intellectual mentors from him both academically and in the power systems industry. Newlun says he has strongly improved his public speaking skills, presenting in several venues such as the ISU Three Minute Thesis Competition, IEEE Power & Energy Society conferences and the Spring EPRC meeting. 
"During my graduate studies, I have improved and expanded my skill set which will help me throughout my professional career," Newlun said. "Through the EPRC, I have been exposed to various research topics related to the power and energy sector, as well as developed technical and analytical skills to help me solve complex engineering problems."