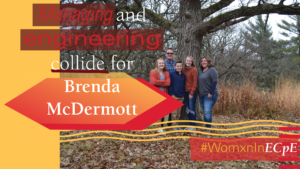 Managing over 100 employees and two departments is no easy responsibility. But Iowa State University alum Brenda McDermott, from the Department of Electrical and Computer Engineering, is driving new champions at her position as Director of Design and Construction at Xcel Energy in Minnesota, an investor-owned utility across ten states.
McDermott has eight direct managers working for her, and 170 employees total. Since she is the director of both design and construction, she manages people of all different backgrounds.  McDermott realized earlier in her career that she has a strong passion for mentoring many employees and a drive for engineering.
"I have the folks who design the electrical system and the folks who build the infrastructure work for me," McDermott said. 
Being director, McDermott is readily available for the next problem to be solved.
"Most of the time I get to work around 7:30-8 a.m., and leave around 5-5:30 p.m. But, I am on call 24/7, 365 days a week," McDermott said. "Like if a car hit the pole, or a storm went through the area, or we had any issues like that in my area, then I take care of it."
How did McDermott get to where she is today? She thanks Iowa State, crediting its consistent encouragement of "real world experience" for motivating her to apply for her first internships, which were gateway positions allowing her to dabble in the industry, and leading her to where she is today.
"When I was at Iowa State, I did an internship during a summer, and I went to Common Wealth Edison for some time and worked there, then came back to Iowa State and had classes for another two semesters," McDermott said. "Then, the following summer, I got another internship in Texas with Southwestern Public Service Company (SPS), where I worked for the power company there, as well. That's kind of how I got interested in the power section in electrical engineering."
Shortly after graduating from electrical engineering, McDermott and her husband moved to Hawaii for her husband's position in the military, and McDermott got a job at an electrical engineering consulting firm, which designed the internal electricity for hotels and restaurants.
After being stationed in Hawaii, McDermott and her family moved back to Texas where McDermott had a new electrical engineering job in the design department at the company she had previously worked for, SPS. McDermott worked at SPS for five years. SPS is where she gained a lot of her initial experience with engineering, design and customer service, all at the same time.
"At SPS, I would meet with customers and then come back to the office and design," McDermott said. "There, I go to use all my electrical engineering background, like how to size a transformer and what the load meant and all those kinds of things."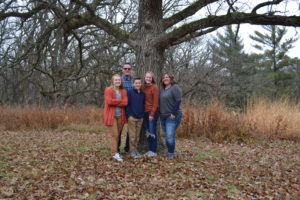 SPS is where McDermott realized that she has a passion for both engineering and helping others. McDermott and her family then moved to Minnesota, where she worked more directly with Xcel. McDermott has now worked for Xcel for 18.5 years. Xcel Energy has four individual power companies within it, SPS, Northern States Power-Minnesota (NSPM), Northern States Power-Wisconsin, Public Service Company of Colorado.
Her first job in Minnesota was a lot more desk-oriented than her position in SPS, confirming her realizations regarding the working style where she thrived the most.
"I was a capacity engineer for about a year and a half, and then I realized that a desk job just wasn't for me," McDermott said. "What I was interested in doing was interacting in the field with customers, and I wanted a balance. So that was when I applied for a job as a manager of the design department, and in 2008 I got that job, manager for the Northwest region, or the North Dakota territory."
But McDermott expanded from there and picked up managing construction people, too, which led her to eventually adding the responsibility of managing solar gardens, a.k.a. solar systems in a garden providing electricity.
"In 2015, I was given the opportunity to still retain the design and construction folk, but I also got all of the solar gardens that Xcel energy is adding to our system, and I got the responsibility of those and made sure they were built and taken care of on time," McDermott said.
Shortly after, McDermott applied for another position and received it — and this is the position she has now.
"In October of 2017, I applied for a directory position and I got that, which is my current role now," McDermott said. "I have all of the design and construction folks on the west side of the twin cities and retained all of the solar job duties."
As a director, McDermott is able to activate both her engineering side and her people-oriented side.
"Employees are my favorite part of my job," McDermott said. "But I still get to use my electrical engineering background while still getting the people interaction, which is hard to get both of sometimes as an engineer."
As a director, McDermott has the opportunity to mentor her employees and teach them new tasks throughout their employment. 
"The reason why I love my job so much is because I get to see employees learn and grow and be promoted," McDermott said. "Watching them learn and grow is nice to see them eventually lead a crew and talk with customers."
Now, McDermott has been through many positions because of the encouragement from Iowa State. And they all led her to where she is today, as the Director of Design and Construction at Xcel Energy, continuing her path where customer service and engineering collide. 
"I truly believe I wouldn't be where I am today if I wouldn't have gotten my first internship during my college career," McDermott said. "But I did that internship because it was so highly encouraged in the department, and I'm so thankful I did."