Former industrial engineering department chair Joseph Walkup used to say "engineers can do anything." For one department alumnus, that "anything" involves practicing medicine.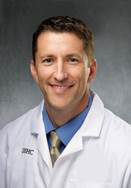 Michael Baker grew up on a farm in State Center, Iowa, roughly 30 miles east of Ames. Despite working around the farm as a kid, he knew that a career in agriculture wasn't for him. When he arrived at Iowa State University, his strength in math and science coupled with an influential older sister, Leslie Potter (who is currently an associate teaching professor in industrial and manufacturing systems engineering at Iowa State), led him to choose industrial engineering (IE) as his major.
He said the IE curriculum was effective at not only teaching technical skills but also how to think critically.
"The IE curriculum helped me develop critical thinking skills that have been useful in every job I have had," said Baker. "The overall concepts of quality control, optimization, and process improvement are incredibly relevant in any job as well as in life."
As a student, it was an ergonomics course taught by longtime IE faculty member Pat Patterson that had perhaps the greatest impact on him.
"I remember how much Dr. Patterson enjoyed what he taught and he inspired me to work much harder than I might have otherwise," Baker said.
Though he may not have known it at the time, this ergonomics course may have been part of the catalyst that eventually led Baker to a career in medicine. After completing his B.S. in IE, he worked as a software consultant in Colorado and Texas. But after a decade of consulting work, he decided to switch career paths and he enrolled in medical school at Texas College of Osteopathic Medicine.
He and his family moved back to Iowa so he could complete an anesthesia residency at the University of Iowa Hospitals and Clinics in Iowa City. Baker currently lives in North Liberty and works as a partner at Linn County Anesthesiologists PC in Hiawatha. He says that the medical field can be a good career path for an engineering student who doesn't want to practice engineering in the traditional sense.
"Material taught in medical school is no more complex than a lot of your engineering courses," said Baker. "It is the sheer volume of information and rate it comes at you that is the challenge, but it is very doable if you are ready for the grind."