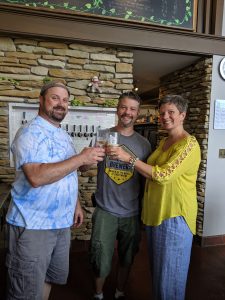 Limestone Brewers started as a hobby for Josh Olson ('99 B.S. agricultural systems technology).
"I started home brewing straight out of college, which is how most of these breweries get started," Olson says. "I homebrewed for about five years. Then I started a family, I became busy, and I put aside brewing for a number of years."
But brewing didn't stay on the back burner forever. Olson, who is an insurance salesperson and volunteer firefighter in the northern Iowa town of Osage, soon found another engineer who had a taste for entrepreneurship. Partnering with friend Tony Wynohrad, the two set out to create Limestone Brewers
"I had my eyes opened up to many things, like operating money, finding funding, licensing and legal issues," Olson says. "We benefited from our engineering background and ability to form a strategy to get from point A to point B."
Olson says that, when a brewery starts out, the success rate is very low. But Limestone Brewers, which is now in its second year of operations, is growing. Axe throwing, holiday celebrations and brick oven pizza have all been added to the brewery's event roster.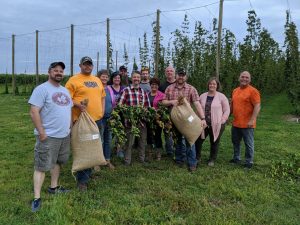 The brewery has a very family-friendly feel, says Melissa Norby (2007 B.S. agricultural and life sciences education/international agriculture, 2009 M.S. agricultural and life sciences education). Norby, who is an Osage local, knows the importance of entrepreneurship to this Iowa town.
"New businesses like Limestone are vital to small communities," Norby says. "We're fortunate in Osage to have a lively main street with places to go for shopping, food and entertainment. It's always fun to hear and see the new ideas the Limestone team has to help make Osage a destination."
Limestone Brewers has several main flagship brews, including local favorites like Rope Swing IPA, Big Bin Porter and Pleasant Street Cream Ale. Each has a tie back to the surrounding area. For example, the name Big Bin Porter is a tip of the hat to the Osage Big Bin grain wagons made in the area a half century ago.
Though Olson chuckles about the fact that Limestone Brewers is situated smack in the middle of Busch Light and Budweiser territory, he hopes that these new flavors will become favorites of the community's palates. You can often find Olson and his fellow brewers explaining the different choices on tap to customers and helping them discover a new drink.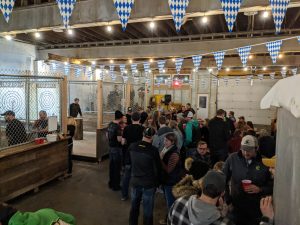 "There is absolutely nothing wrong with Busch Light or Budweiser," Olson says. "Sometimes, when you put a darker beer in front of someone, you can see their eyes get big and they start to hesitate. But we know that they're coming to Limestone Brewers for the experience of a new brew. So we talk through the beer with them, its flavor and its feel. We just want to bring something a little different to people in our area who, like ourselves, like good craft beer."
Limestone Brewers can be found at 518 Main Street in Osage, Iowa. Find more, including hours and menus, at their website, www.limestonebrewers.com.
Announcer
Welcome to Factor Analysis, an in-depth conversation of engineering knowledge from the classroom to the field, and topical issues surrounding work and life from an engineer's viewpoint.
Kate Tindall
Welcome, again to Factor Analysis. I'm your host Kate Tindall. Today I'm joined by Josh Olson. Josh, remind me what year you graduated from Iowa State.
Josh Olson
I am a 1999 graduate of the College of Agriculture.
Kate Tindall
Okay. And also remind me what specialization did you take up while you were studying agricultural and biosystems engineering
Josh Olson
I didn't really declare till a few years later, but I believe it was the Applied Sciences portion of what was then ag systems technology back in the day. And that afforded me a kind of a, a wide open study, so to speak. I have a minor in agronomy, also allowed me to get into some of the engineering side of those things, the technology with agriculture in the late 90s, early 2000s was kind of exploding at that time. So I felt like that was the best option for me to, to kind of get a broad base, knowledge base as I went out into the, in the working field, so to speak.
Kate Tindall
I like that idea of a broad knowledge base, because I'm guessing and our listeners will find this out later as we talk, that having a broad knowledge base has really helped you in this current pursuit that you have, which is running Limestone Brewery, correct?
Josh Olson
Correct. Correct. And I've always been one that, I've never been one to focus in, like, pinpoint a lot of things. I'm active in a lot of things. I like to have different experiences and those kind of things. That follows me through my hobbies, and through my business pursuits. And then in my, even in my current career as a, as an insurance agent here in town, health and local agricultural and farmers, businesses, those kind of things. with the, with the introduction of technology into those kind of fields too, it's been really helpful. Along with the brewing part of it having a kind of a science based background degree from Iowa State has helped myself and Limestone kind of navigate some of those startup issues.
Kate Tindall
Sorry to interrupt, just, I want to interrupt really quickly, because maybe some of our listeners don't know. Describe to us what Limestone Brewery is, and how did you first come up with the idea for a brewery, because I think that when we're talking to engineers, we don't initially think "Oh, you've got a degree in engineering, now I'm going to go into brewing." So talk to me a little bit about what Limestone Brewery is and how you first came up with that idea, Josh.
Josh Olson
So I started home brewing, which is probably how most the breweries get started. I started home brewing basically right out of college. Home brewed quite a bit for three, four or five years and then like a lot of us, we start families and we get busy and I kind of put myself homebrewing stuff away for a number of years and I met a fella named Tony Winerad add he's a local volunteer firefighter with me in Osage and we found out we had a mutual, mutual love for homebrewing and that started about five years ago. And so he also has an engineering degree in a completely different field, but we both like pushing the boundaries and we both like maybe doing things that normally most people wouldn't think we're we're going to do here in a small town.
Kate Tindall
You like to push the envelope a little bit, is that what I'm hearing?
Josh Olson
Yeah, a little bit a little bit I mean, I'm not gonna go out. I'm not a huge risk taker but Tony nice all maybe a need for this and Mitchell County, a place where people you know, this guy's pretty rule about 10,000 people live in the whole county. Osage is about 3500 very agricultural base community. Got a few factories here and there. We just thought it'd be kind of a nice spot to have a family friendly place to come have a good craft beer, have a bite to eat, you can bring food in, we've got a pizza kitchen here. And so he and I think a lot alike, in some ways, and then there's other things that that I think of that he doesn't far as is it a long range goal, is a short range goal. What's, how can we get this part started? And then and then one of the things we do really well in the brewery is process organization, is when we when we decide what we're going to do on a project we'll lay out a timeline and, and have some kind of clear responsibilities on who's going to do what. So, Tony and I, from a business partner standpoint, you know, sometimes you go into business with a friend and it doesn't end up well. This has been great for the last three, four years. So we've been established, we kind of know what to expect out of each other. And that's a big part of owning a business. One of the things that we both thrive on as engineers, I think, really thrive on is problem solving, like, What, what's put in front of us? And how can we attack that with the best possible solution. So Limestone was kind of born out of that. Tony and I both know, we're both in our mid 40s, roughly, we've become established in our current careers and Limestone was was a way for us to kind of follow our hobby and passion and share it with other people.
Kate Tindall
Absolutely, you definitely want to be able to get along with the person with which you're working. So you mentioned problem solving, and that both you and Tony are real problem solvers. So you kind of jumped the gun on me, but I wanted to ask, what did you know about brewing prior to opening a brewery? Obviously, you knew the home craft version, was opening or starting a business a lot different? How difficult was it to start a business and keep it going?
Josh Olson
Right. So I I'm not a business startup guy per se. So this was my first business startup. But for Tony, this was his, he was a business owner prior to this he had a very successful business up in the cities that dealt with a pretty obscure industry, but it was making research vacuums for materials. And so he started this business probably 20 years ago, grew it very well, ended up selling it and he says, "I'm on to the next thing." He goes and he goes, "I'm not really a retail business owner, but we're going to learn together." And from that side, I had my eyes opened up as far as just the little things from operating money. Where do we find funding? How do we fund it? Do we go get loans with the bank? Do we crowdsource it? That's been a popular thing, the licensing, the legal issues.
Kate Tindall
Oh my gosh, I could just imagine.
Josh Olson
Tony is a very detail oriented, so are our licensing and our insurance thing and those kind of things. He was very good at that dialing that in with the whole process was very smooth compared to what we had heard from other brewery startups. And I think we've benefited from, once again, having kind of an engineering background that, okay from step A to B to C, we follow these, we'll be good to go and making sure we, you know had all our T's crossed, and I's dotted so to speak. Talking with some other breweries, and that's one of the things that's great in Iowa is there's a brewers guild, very great resource for information. And they helped us on some things from that point. And one of the things that startup was, here's, here's the hiccups that we've had, a stumbling block that we could avoid. So Tony being a businessman prior to this, and both of us having a problem-solving approach in a, in a structured approach to it. I think what happens sometimes is, on the brewing side, some get started up and they're home brewers, that's what they love to do. But on the business side, they don't have that experience. So that's where they kind of stumble a little bit.
Kate Tindall
Like they really enjoyed the hobby, but they weren't quite ready for the business part of it.
Josh Olson
That is correct. I think what happens is they start up and they love making beer. But everything else on the business kind of irritates them where they're not, That's not their forte and so finding somebody to do that for them is, it can be a struggle. We're lucky enough that both of us via jobs, past experiences, education have, have navigated that quite well. The statistic is most breweries after a year, you're either going to make it or you're not that that 360, 400 days will tell you if you're going to be all right, you know, and we're, we're in the year two quite a ways and we're seeing nothing but nice, incremental growth, so we feel confident that what we're doing is the right thing.
Kate Tindall
Now, I want to talk to you a little bit about your brews, because anytime somebody opens up a brewery or a local brewery, it seems like there is a flavor of the local culture in there somewhere. So I want to talk about your top brews, and maybe, what is your inspiration when you go into brewing a new batch
Josh Olson
We have, like two or three flagship beers, we call that, that move consistently. So sometimes you get caught as a brewer like, okay, I want to brew the beers I like but on the business side, I have to brew beers that are going to keep people coming in the door.
Kate Tindall
That's the part about the hobby versus the you know, the business aspect. Yeah,
Josh Olson
That is correct. That's correct. We kind of snicker about it, but it's true. We say we currently live in the middle of Busch Light territory, you know, big box brand Budweiser. And there's absolutely nothing wrong with that beer. We just wanted to bring something to the other people in the area, ourselves, that like good, craft beer, and maybe do some educating on the way so one of our beers, our probably most popular, consistent beer is a cream Ale, which is a very light, approachable beer, low hops, low bitterness. I always compare our recipe a little bit to a famous Cream Ale in our neck of the woods. called Spotted Cow out of Wisconsin. That was kind of the first Cream Ale I was introduced to many years ago, and it's a, it's been a great way to get some of the more timid craft beer drinkers that are like, we kind of want to do this, but I've been drinking Bud Light for so long that I'm not sure I can switch.
Kate Tindall
Maybe you've forgotten what any other type of beer actually tastes like?
Josh Olson
Well, there is that and to be honest with you, up until a few years ago, there wasn't much to choose from here in Mitchell County, you just had your, your usual choices at the grocery store, a local local convenience store. And so, part of having choices now is the education on that, and I'm pretty proud to say there's been, I know that part of growing up in this area. I know quite a few people. And there are some people that come in on a regular basis and they'll have a Cream Ale, or they've moved on to some of our other beers that two, three years ago I would have told you they never do that. And they, they enjoy it. One of our other beers here that you really love is called the Big Bin Porter. Just a standard porter but a dark brown. That's one of the things that will get people if they're not used to craft beers, get them a little bit nervous. And when that beer shows up in their place or in their cup, and that thing is dark, and they start looking at it going, I'm not immediately gonna like that.
Kate Tindall
That would be me at the table just to let you know, that would be me. Absolutely.
Josh Olson
Well, the way through that is, you don't want to talk down to people because they're in for the experience, they're in for the education and we what, we talk through some of the fears, and after that, they either liked it or they, it's not for them, but they appreciate kind of that education behind it. You know, when you look at a dark beer, yes, somebody "Are you kind of a coffee drinker." That's one of the first things, do you like coffee because it's going to have coffee notes to it, maybe a little bit of chocolate notes to it. And if they are a coffee drinker, all sudden, they're like, you know what this isn't, it's like a cold brew, so to speak. The name. The name Big Bin comes from, actually in our brewery, there used to be a wagon manufacturer, made grain bin wagons. called the Osage big bin, painted green. They were built and manufactured in the back of the brewery. So we kind of paid homage to that, that growing up on the farm. We had four or five, six of those wagons run around. So that was kind of fun for me to to name those beers.
Kate Tindall
That is awesome. Such a cool historical local tie.
Josh Olson
Yeah, yeah, we got another beer Rope Swing IPA. There's an old rope swing up on the Cedar River. And I as a kid, I don't think it's there anymore. But I as a kid would go up there in the summers every now and then with a group of friends and we go swinging off this rope into the Cedar River. And those of us in my generation recognized Rope Swing. They come in. They're like, Ah, is that for the Mitchell Dam Cedar River? I said you bet it is. So they all of a sudden they're just a little bit nostalgic. They're having that beer and thinking back maybe they're ready. So, IPAs here starting to become kind of a popular thing. Tony and I talked about how, kind of trends start on each coast and kind of permeate their way to the middle of the country.
Kate Tindall
Sometimes that's the way it happens. Yeah,
Josh Olson
That is either fashion or technology or beer. It gets to us eventually. And we got people that love our IPAs, and I'm surprised the people that like that wouldn't normally so yeah, we you know, we we try to maintain a tap lineup of about 10 to 11, 12 beers there. They're all our beers for the most part. We've got a couple guest taps for root beer and some cider, but the beers on our tap are brewed here in the brewery.
Kate Tindall
Summing up our question and answer time here. I want to ask you, what has been the best part of this experience Josh?
Josh Olson
Getting to see local and even new faces come in the brewery and they appreciate it. They love they even if they don't even tell you you know, face to face. You can tell when they're having their conversation with somebody that was one of the big things. On our website, and that's one of our mottos is bringing people together for good conversation through good beer. We're kinda in the stage, I've got three kids at home. I've got a couple of 13 year old daughters and it's nice everyone's well put the phone down, have a conversation, whether it's over dinner, or they'll come up to the brewery on a Saturday afternoon with me and have a root beer and we'll just talk about the week. We're trying to promote that. So that's probably been the best experience that I've had here. I mean, the brewing part is great. I don't, I love going in and spending six, seven hours here few times a week maybe weekly, brewing up beer or even working on a new recipe but the community involvement as we've gained steam here's been the biggest, the biggest win, I say for me. I really do look back at my time at Iowa State very fondly. My kids I think my kids even know 'cause I talk about Iowa State a lot, because was has happened at the University in Ames in the last 20 plus years is amazing as far as what what the growth of the university has done, I really enjoyed my my four years down there. And I think some of the things that I learned, we talk about that, I talk about that with people a lot, it's not so much what I actually learned in the classroom at Iowa State, that stuff, but what Iowa State did was it taught us how to grow on your own, how to become a person we are today and I think that's what what Iowa State did for me was was teach me how to problem solve and teach me how to be a productive member of society and, and I've got friends that I made down there, they still talk to today.
Kate Tindall
It's just it's a very tight, it's a very tight link.
Josh Olson
Very family oriented, I, that's that's the way I talk about it, even if there's 30,000 people down there. I'm not I'm not sure you ever get that feeling. I think it's I think the way the college is run, they're larger colleges, but within each college, it seems like there's ways that you can, I called it make a difference. You know, you get you're able to get involved and feel like you're part of the university.
Kate Tindall
Absolutely. Absolutely. Josh, I want to thank you for sharing your experience going from home brewing to Limestone Brewery.
Josh Olson
Yeah. Thanks for having me. I enjoyed it. We hope to see up here in Osage, Iowa at Limestone Brewers
Kate Tindall
I'll have to make a trip up there sometime when the weather is good to taste some of those brews. I really think I should. Thanks so much to our listeners, make sure and hit subscribe wherever you listen to podcasts.
Announcer
Factor Analysis is produced by Iowa State University's College of Engineering for a list of ways to keep up with the college including more podcasts, social media and apps go to engineering.iastate.edu. Music by Lee Rosevere and use under Creative Commons license.