Dodds, John S. "Jack"
(August 10, 1885-November 3, 1950)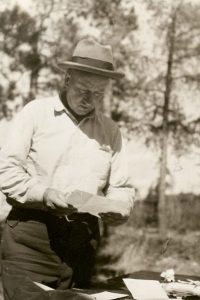 —professor of civil engineering, founder of Camp Marston—was born in Northfield, Minnesota, on Aug. 10, 1885. At an early age, Dodds showed an intent interest in engineering. After high school, Dodds joined a group conducting government surveys in North Dakota. In 1904, Dodds enrolled at Carleton College in Northfield. He left Carleton in 1907 for engineering work in Mankato. In 1909, he enrolled at Iowa State College (ISC).
As a student at ISC, Dodds worked to pay for his educational expenses. He took on jobs like campus mail carrier and heating plant fireman to cover his college bills. During that time, Dodds took a job paving campus streets for the Iowa Highway Commission. He even traveled to Mason City and Clear Lake to install the first mile of concrete highway paving in Iowa. In 1912, he graduated with a bachelor of science degree in civil engineering.
Shortly after graduating from ISC, Dodds took his first staff appointment at Iowa State as a lecturer in agricultural engineering. He held this position from 1912 to 1913. He would go on to receive a professional civil engineering degree (equivalent to a present-day advanced degree) from ISC in 1917.
In a 1925 letter to ISC's Alumni Hall, Dodds notes that civil engineering Professor Thomas R. Agg (a future dean of engineering at ISC) took a commission with the U.S. Army in 1917. Dodds assumed Agg's teaching duties as an associate professor. When Agg returned in 1919, Dodds was put in charge of surveying for the civil engineering department (now the Iowa State University Department of Civil, Construction and Environmental Engineering). It was a position he would keep for the remainder of his employment at ISC.
If the name "John Dodds" isn't familiar, perhaps "Camp Marston" is. In the summer of 1923, Dodds established a civil engineering camp. The camp was named Camp Marston after Iowa State College of Engineering's first dean, Anson Marston, and was located near the Minnesota-Canadian border on Browns Bay, Rainy Lake.
The 1925 Iowa State College of Agriculture and Mechanic Arts booklet Summer Session: Summer Surveying Camp reveals more. Participation in the six-week camp earned a student nine credit hours for the mandatory course of civil engineering (C.E.) 300. All civil engineering students of sophomore class standing or higher attended the camp. That excluded women students, who were not allowed to attend Camp Marston.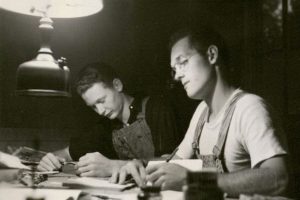 The camp was held yearly from 1923 until 1939 (with the exception of 1934). A daily routine was established, with men rising at 5:30 a.m. to the sound of a bugle. Each sixteen-hour day was filled with instruction in land surveying and railway line surveying. There was topography, and hydrography work consisting of lake shore surveying and lake sounding for depth and floor topography.
"The almost complete isolation of the camp was one of its greatest advantages," Dodds wrote in his Report of 1923 Surveying Summer Camp. "Each man in camp learned how to maintain an engineering organization on the frontier, keeping up the morale, devising entertainments, learning to rely upon limited resources and appreciating the value of work."
The year 1935 ushered in talks by Iowa State officials to move Camp Marston's location. Noted in her 2001 article "Camp Marston: An Iowa State Treasure in Minnesota's Northwoods," Visions editor Carole Gieseke writes of a 1938 visit from then-Dean of Engineering Thomas Agg. "He [Agg] believed Camp Marston was too remote, too archaic, and lacking the amenities a camp ought to have." Against Dodds' wishes, officials moved the camp to an abandoned Civil Conservation Corp camp in Wirt, Minnesota, in 1939. This new location would operate until the 1960s.
After losing the Camp Marston debate, Dodds continued a successful career. He was a member in the American Society of Civil Engineers, serving as chairman of the society's Executive Committee of the Surveying and Mapping Division in 1949. He was secretary of the Iowa Engineering Society for 17 years and boasted memberships to many honor societies, including Tau Beta Pi engineering honor society.
He had four children with his wife, Josephine (Hungerford) Dodds: Robert H. Dodds, Mary (Dodds) Schlick, Katherine (Dodds) Fletcher and John Parry Dodds. In their 37-year-marriage, the Dodds saw each child graduate from Iowa State. Up to a week before his death, Dodds was teaching Iowa State classes. He died on Nov. 3, 1950, after succumbing to a heart attack.
Today, the original Camp Marston site lies inside Voyageurs National Park. Remnants of camp buildings can still be found near the shores of Rainy Lake.
Sources: The Civil Engineering Surveyor Summer Camp Records and a file on John S. Dodds are in the Special Collections and University Archives, Iowa State University Library, Ames. See also Carole Gieseke, "Camp Marston: An Iowa State Treasure in Minnesota's Northwoods," Visions (2001).
Photos courtesy Special Collections and University Archives, Iowa State University Library
This story is a part of the ISU Biographical Dictionary, an ongoing project led by University Museums at Iowa State.