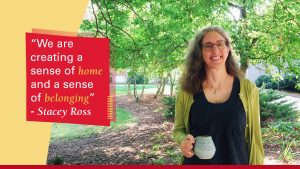 After a successful year of leading and connecting faculty and staff around campus at Iowa State University, Cardinal Women*, a university group specifically for people identifying as women who are cisgender, trans, of trans experience, etcetera, has selected a new team on campus with contagious and inspiring energies.
Stacey Ross, Graduate Admissions Coordinator in the Department of Electrical and Computer Engineering (ECpE), is one of the 74 women selected out of 146 to be a part of Cardinal Women.
Cardinal Women selects faculty and staff from many different departments and colleges around campus. Those selected meet up in groups of roughly 10 members five times throughout the fall semester. One session has already taken place.
"There is a wide variety of different faces and experiences, people coming together from all kinds of different departments and positions," Ross said. "In the first session, we got to know each other. We were broken into seven or eight groups of about 10 people each. That way, we can connect with each other on a more personal basis."
A lot of internal growth is being made the Cardinal Women. There can be a lot of factors in the media, and stereotypes weighted on a person's shoulders — but Cardinal Women helps women address those factors and learn how to look past them.
"In the first session, we were identifying our inner critics," Ross said. "That voice of self doubt that sometimes holds us back professionally. We put that voice in context, learning to understand our capacities beyond and self-doubt."
Even though the 2019 Cardinal Women program is just beginning, Ross has plans to share her knowledge with fellow faculty and staff in ECpE. Working in student services, she believes communication and self confidence are extremely important characteristics to have and to pass on to students.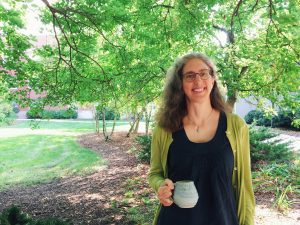 "I think there is a capacity to have this healthy mindset impact both how I face every moment of my life and interact with every person I meet with," Ross said. "I want to help listen better, communicate better and create more gentleness and kindness on campus. We can be a large campus, but it's nice to have a sense that students have a home here and that they can be heard."
According to Ross, sharing these ideas will only make the environment around campus, and the department, better. And as a staff member in student services, she is in the perfect position to spread a message of kindness and confidence.
"In student services, we are here to help, and part of that is how we are creating a sense of home and a sense of belonging," Ross said. "It's partly how I interact, partly how I can encourage others to interact, and both my colleagues and students — sharing what I learned to them and seeing what I can do to help them improve their self confidence, too. Everyone can benefit from these ideas."
In the upcoming Cardinal Women sessions, members will be learning about discovering one's inner mentor, communication style strategies, approaches to negotiation and how to support and affirm members of the Iowa State community.
"I'm really enjoying the personal connections and new friendships I'm making, as well as the opportunities for learning about myself and growing as a person and professional at Iowa State. This is going to be helping my self confidence and communication skills," Ross said. "I was lucky enough to be selected, and I am really glad to be participating."