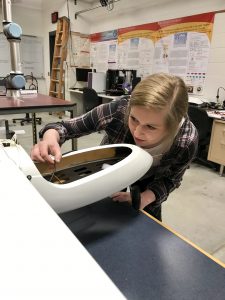 Abby Gries, a senior in aerospace engineering, is joining a prestigious cohort of women undergraduates in being awarded a scholarship from the Women in Aerospace Foundation (WIA). With each recipient given a unique award, Gries will be receiving the AIAA Digital Avionics Scholarship.  
When the opportunity was flagged for Gries by Kristin Rozier, assistant professor with the Department of Aerospace Engineering, she was hesitant to apply so close to the end of the application period. But in July of 2019, Gries was informed of her selection for the scholarship along with only three other undergraduate women in aerospace from across the United States. 
"Receiving this award pushes me to continue to be the best student I can be as I finish out my time here at Iowa State," Gries said. "It reminds me that hard work does not go unnoticed and inspires me to work hard in my future career as well."  
With its inception in 2009, the Women in Aerospace Foundation has recognized undergraduate junior and senior women in aerospace to encourage them to establish careers in the aerospace industry. The scholarship awards $2,000 to each of the four undergraduate women selected as recipients for the 2019-2020 school year. 
Breaking a cycle of obstacles 
For Gries, her family's support and experiences early in life prepared her for the industry. As a female in aerospace, Gries believes challenges linked to self-identity can serve as a barrier for other women looking to start a career in aerospace.  
"It can be hard to identify yourself in the industry when you don't see other women in the field," Gries said. "It's almost a vicious cycle when you don't see yourself represented and when you don't see yourself represented, it is harder to go into the industry." 
Gries credits programs at Iowa State – including the Women in Science and Engineering (WiSE) – with building better representation of women in the industry.  
"It's also about representation and continuing to increase the visibility of the women in industry and academia," Gries said. "It also starts in elementary school and middle school with encouraging girls to pursue careers in STEM." 
Reflecting on formative experiences  
Gries' interest in aerospace engineering was developed at an early age. As part of a joint program with her high school and a neighboring community college, Gries worked with Rockwell Collins in her hometown of Cedar Rapids for a short-term internship. Here, Gries was introduced to work in engineering and reaffirmed her interest in the field.  
Prior to the start of her freshman year at Iowa State, Gries completed a second internship with Rockwell Collins that introduced her to programming. After freshman year, she returned to Rockwell Collins to work with the Radio Systems Engineering team along with two other interns to construct a software defined radio. 
Gries interests and experiences eventually led her to intern with Boeing in Renton, Washington, just outside of Seattle. Here, she worked with Boeing Global Services with the Provisioning Services team. Gries' role involved analyzing the performance of spare parts.  
This past summer, Gries interned with Collins Aerospace. Working in Burnsville, Minnesota, Gries completed projects in aerodynamics and tested pressure transducers for use in wind tunnels.  
"This was one of the coolest technical experiences I've had because I got to apply lessons from my classes in aerospace to this job and it went beyond general problem-solving skills," Gries said. 
The advent of a promising future  
As part of her aerospace research on campus, Gries is working with other students to build an unmanned aircraft system for use as a testing platform for Rozier. As an open source UAS project, the goal of the work is to make the technology and documentation for the system accessible to the public. Gries says the open UAS work will help get high school students involved in aerospace projects and may eventually evolve into a more advanced technology that could be used by NASA. 
Looking ahead, Gries is contemplating the option of pursuing graduate school, but is also interested in entering the industry immediately after graduating. Gries' summer experience with Collins Aerospace solidified her interest in aerodynamics and her project focus on campus has supported her strong interest in unmanned aircraft systems.  
In addition to being awarded the scholarship from WIA, a ceremony and banquet will be held in Arlington, Virginia, in October, bringing together over 300 people to recognize Abby, her fellow scholars and women in the aerospace industry for their achievements and accomplishments.