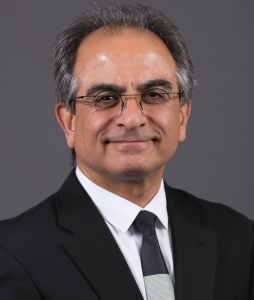 Reza Zoughi, a research and teaching leader in nondestructive evaluation, has joined Iowa State University as the Kirby Gray (Battelle) Chair in Engineering in the Department of Electrical and Computer Engineering.
The Kirby Gray (Battelle) Chair in Engineering was established in 2009 by 1945 electrical engineering bachelor's degree graduate Kirby Gray. It is awarded to a faculty member known for his or her prolific work that will contribute to new businesses and jobs in Iowa in electrical, computer or industrial engineering fields.
Prior to joining Iowa State, Zoughi was with the Missouri University of Science and Technology (previously Missouri-Rolla) since 2001 as the Schlumberger Distinguished Professor and director of the Applied Microwave Nondestructive Testing Laboratory. Under his leadership, the laboratory became well known for its excellence in microwave and millimeter wave nondestructive testing and evaluation.
Zoughi, a Fellow of both the Institute of Electrical and Electronics Engineers (IEEE) and the American Society for Nondestructive Testing (ASNT), has published more than 630 journal papers, conference proceedings and technical reports and a book titled "Microwave Nondestructive Testing and Evaluation Principles." He is also credited with 18 U.S. patents, with several issued internationally, as well.
Zoughi was the recipient of the 2007 IEEE Instrumentation and Measurement Society Distinguished Service Award, the 2009 American Society for Nondestructive Testing Research Award for Sustained Excellence, the 2011 IEEE Joseph F. Keithley Award in Instrumentation and Measurement and the H.A. Wheeler Prize Paper Award of the IEEE Antennas and Propagation Society in 2013, among many others.
"We are pleased to welcome Reza to Iowa State, who brings exceptional and unique expertise in nondestructive evaluation," said Arun Somani, associate dean for research and Phillip and Virginia Sproul Professor in Electrical and Computer Engineering. "Reza also brings his insights into the classroom: Future Cyclone Engineers are learning from a worldwide-recognized expert in NDE, which is an engineering field crucial to ensuring the safety of systems across many facets of life."