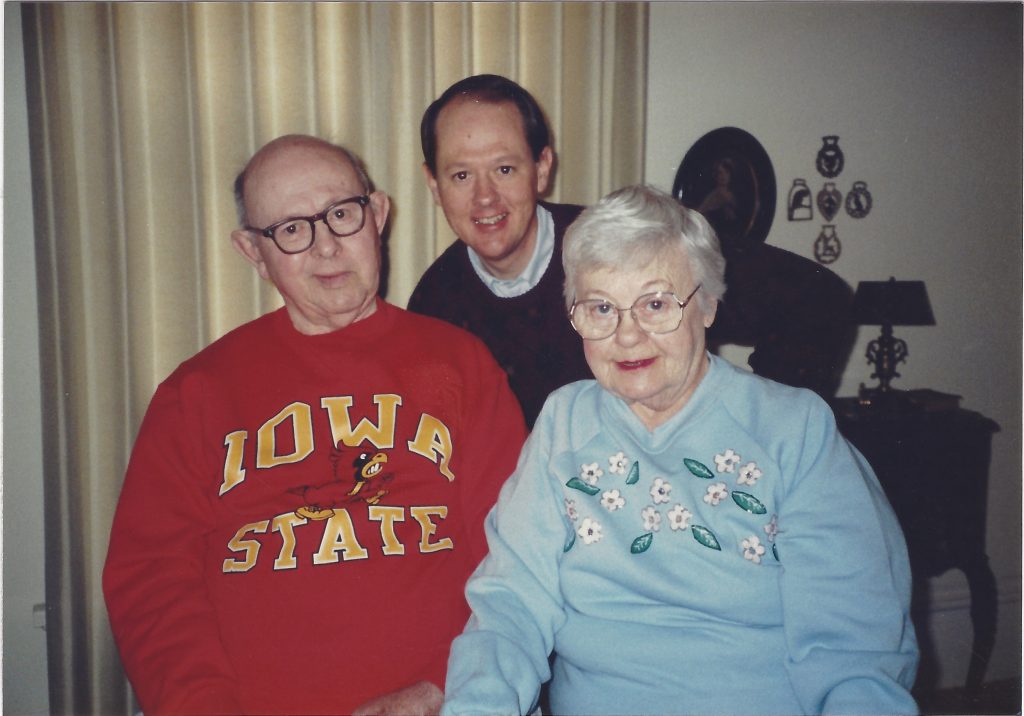 With generational differences and 34 years separating their graduations, Jim Hooper unintentionally followed his father's footsteps to Iowa State and his career.  
Hooper ('70 indust engr) didn't set out to Iowa State because his father went here, but after visiting the campus, Hooper knew he needed to attend.  
"I visited Iowa State and it was the most beautiful campus I'd seen," said Jim. 
Three decades before Hooper would step on campus, Louis Kent Hooper, Jim's father, began his journey at Iowa State studying general engineering. In an autobiography, Louis wrote, "Iowa State is one of the most beautiful campuses I've seen. The campus is located about a mile west of Ames and is like a small town with shops and stores on the south side of Lincoln Way… Almost in the center of the campus was a beautiful carillon tower with manually operated bells. We were serenaded morning and night with delightful music."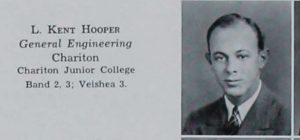 While attending school, Louis lived in a rooming house at 208 Stanton ran by a woman named Ma Taylor. He lived with veterinary medicine students who pranked the mess hall by embalming animal parts to the bottom of dinner plates.  
Louis Hooper worked with the Iowa State High Commission while trying to finish his engineering degree.  
"It was a hard decision to quit work and finish school and it turned out to be the best decision I ever made," wrote Louis. "I took the bull by the horns and went back to Iowa State for the winter quarter of '35-'36 and graduated in June 1936." 
Louis Hooper found himself working for Crane Company as a quality control manager, helping produce and sell products, such as industrial valves, to the US Navy for cooling nuclear reactors. While at the company, Louis met Admiral Hyman G. Rickover, a moment in his life he never forgot.  
Jim Hooper admired his father. He was a craftsman, always tinkering with something new. Jim remembers the days he and his brother spent in the basement playing with their train sets. Louis sat in the corner, not far from his boys, connecting with his amateur radio and using call sign K9QJS. A memory so solid that Jim found himself interested in amateur radio operating and picked up the hobby later on.  
"When my father passed away in the 90s, his call sign was dropped," said Hooper. "I contacted the FCC (Federal Communications Commission) and requested his old call sign." 
K9QJS passed from identifying Louis to Jim's new call sign. Jim has connected with two people who knew his father through amateur operating.  
"In 2012 a guy from Florida asked me how I got the call sign and I explained that is was my father's. Turns out he had contact with my dad back in 1961 and sent me a postcard my father had sent him," said Hooper.  
A small connection that kept Louis Hooper's memory alive. Louis didn't live to see his son shift career paths to a quality control manager, but Jim finds it funny that they ended up in similar career paths.  
"If I had been told at the time that'd, I'd follow my dad's footsteps, I would have said 'No, that's not very likely,'" said Hooper.  
While the city of Ames had changed dramatically when Jim attended Iowa State, they shared a similar appreciation of their times on campus. Hooper spent his time in school rotating from Iowa State's campus to his co-op in California every quarter. Working for Lockheed Martin Space Systems in the San Francisco area, Hooper said the hands-on experience allowed him to see what real work activity looked like.  
After graduating in 1970, Hooper moved back to California and attended Stanford University for a master's degree, and eventually began working at Hewlett Packard where he stayed for 32 years. During those years, Hooper changed jobs a handful of times, starting in sales office and retiring as a quality manager, the same title as his father
"My dad was just an ordinary person who worked hard," said Jim. "I know he'd be proud of the life I had." 
Now enjoying retirement, Hooper looks back at his life and remembers the counsel of his professors and his father.  
"You really haven't experienced life until you fail and learn from it," said Hooper.