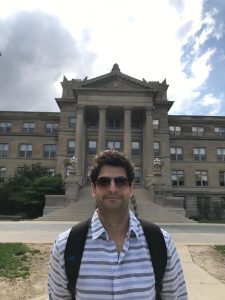 Researching in a new country takes a lot more than packing your bags and grabbing your passport. Hasan Borke Birgin, a structural engineering doctoral student and researcher, traveled from Europe to study at Iowa State University's Department of Civil, Construction and Environmental Engineering (ISU CCEE) during the summer as a part of the European Commission – Horizon 2020 Project titled SaferUP! The SaferUP! project is a multi-year project. Hasan worked with Simon Laflamme, an ISU CCEE associate professor, to complete research for the project. Hasan will travel back to ISU later to continue his research. We sat down with him to learn more …
Can you tell me about your research?

Through my research, I want to produce a novel pavement that can sense the applied load on it. While at Iowa State, I prepared a pavement sample as a mixture of binding polymer, aggregates and conductive fillers that is sensitive to the load.

How did this program help to excel your degree track?

I am involved in a multinational project while seeking my degree. We have 15 early-stage researchers working on the project, collaborating with each other. Being familiar with different cultures makes it easier to establish connections within a multinational project.

What was the most challenging part of studying abroad?

I am also studying abroad in Italy for my Ph.D., so I will give an overall answer for studying abroad. I think the most challenging part is that your research can take up the majority of your daily life, and your family and friends are away. Whenever things don't go well with the research, you can feel lonely and sad, since the options to clear your mind are more limited than your home country. I suggest finding ways to build your network of friends in the place where you are studying. Get to know your lab partners, and find others with whom you can talk.

What is the most rewarding part of a study abroad experience?

The most rewarding part is to see that I can manage my situation and handle obstacles on my own, no matter where I am.

Can you tell us your favorite memory of Iowa State?

My favorite memories are when I walked around Ames with my wife and explored the campus of Iowa State University.

If a student is hesitant about doing research abroad, what advice would you give to them?

I would give the advice that I received once from one of my former professors. The real experience is attained when you leave your comfort zone and try to maintain or increase your level of experience and knowledge under unfamiliar conditions. Apart from that, studying abroad offers a huge opportunity to learn a new language and a different culture, which is highly valuable for both inside and outside academic settings.

How did this experience prepare you for the future?

This experience gave me courage and a wish to collaborate with scientists around the globe. It is possible to say that I learned the importance of establishing connections and of keeping track of research around the world.

How does the college experience at Iowa State differ from your experience at other universities?

Since I was at ISU in the summer, I wasn't able to experience the total ISU atmosphere with lots of students. The most significant difference is that ISU has a huge campus, including many facilities. Also, the university is more involved in the daily city life of Ames. Another important difference is that the students and academic staff are from around the world.

Is there any additional information you would like to add?

I would like to deliver my gratitude and appreciation to the entire department for helping me a lot with my studies while I was getting used to a new campus. I had a great time at ISU and am looking forward to the remaining part of my research.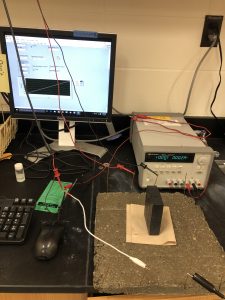 Want to see more stories like this one? Follow @isuccee on Facebook, Twitter and Instagram.