Hi, I'm Alex Lewis, and I'm a senior in chemical engineering. I'm interning at International Paper in Cedar Rapids this summer. I'm actually back for a second internship with International Paper and excited to once again get the opportunity to expand on what I've learned in my engineering classes. Come back and read posts about my internship experience – I'll be adding more over the next couple of weeks!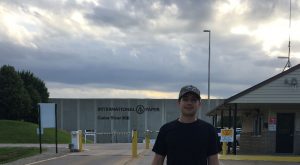 Update #1: Guess who's back, back again
For starters, International Paper takes recycled cardboard and creates the medium and liner board for new products.For this internship my area of focus is the #2 Paper Machine. Our plant has two paper machines and fiber preparation machinery. Last year my focus was on the fiber preparation part of the process. My projects now are mainly focused around machine run-ability and cost reduction.
Being in a new area means I get the opportunity to work with a whole different set of people. I like meeting new people, so I'm looking forward to getting to know my new team.
I'm also looking forward to the challenge of learning an entirely new area and process. The paper machines and fiber preparation are very much their own worlds even though they are inherently tied together. It's the challenge and learning curve that makes every day different than the last.
So many things happen in a manufacturing setting that would be impossible to teach in a classroom. When I started my first internship last summer, I had only taken three semesters of classes. I had barely touched the surface of the Ch E curriculum.
Something I found out from experience is that most often, in our plant, you don't need an in-depth chemical engineering background to complete influential projects. Most projects require logical thinking, clear communication, and meticulous attention to detail.
The value coursework brings are the skills developed throughout the process. That being said, there was a situation that came up that involved sizing a heat exchanger. This would have been much easier if I had already taken my heat exchanger class Ch E 357 Heat and Mass Transfer!
Update #2: The bucket list
This summer my goals are to meet as many people as I can, learn the paper making process, and add value to the plant.
I think it's important to learn the people before you go and try to make big process changes. More likely than not there are operators that have 20 years of experience on you. These are the people that know how the machinery works in and out.
It is much easier to make effective and efficient process improvements if you have the buy in of your team.
Another goal of mine is to learn the paper making process start to finish. There is so much detail and machinery that goes into making paper that you'd never think of. The terminology alone is unique and adds a layer of complexity in itself!
Hopefully, by the end of my internship I will have completed a few projects that add value to the plant. This could be anything from cost reduction, safety or mechanical reliability.
I have already begun working on a few projects, but something new seems to come up every day. I'm looking forward to seeing how much I can learn and accomplish in weeks to come.
Once a year the Co-op gets to plan a golf outing for the whole department. This usually involves taking a half day off work to go eat lunch at a local brewpub and spending the rest of the day golfing.
This year the Co-op gave away prizes for the winning team and the person with the longest drive. It's a great way to get to know people and have fun.
Update #3: Just another day in paradise
My day starts with checking how the plant performed the night before and preparing for the daily morning production meeting. After that it varies tremendously.
Some days are spent helping to resolve any production issues that arise and others are spent moving forward with personal projects. Most days there is an even mix of opportunities on the plant floor and in the office. I think this balance keeps every day new and exciting.
A few of my projects are implementing a production change to prevent mechanical failures, trialing a new chemistry to improve machine operation, mitigating the accumulation of a potentially combustible dust, updating control system diagnostic pages and reducing product quality variation.
If I had the time, I would be interested in leading the implementation of a new piece of equipment. That kind of project usually takes longer than a 12-week internship though.
The great thing about our plant is that there is never any shortage of work, and management encourages the engineers to pursue projects they are interested in.
One of the major differences between this job and any other job I've had is the amount of independence. It makes work that much more enjoyable when you can pursue projects you are interested in and add value to the plant.
Update #4: No pain and a whole lot of gain
When you register an internship with Engineering Career Services, they have some assignments they ask you to do. So far, the assignments are going well.
I think the first and second assignments are a great way to get to know your manager on a more personal level. They also provide an opportunity to ask for feedback and make corrections when needed.
I am lucky to be surrounded by many experienced leaders that are interested in making sure my work experience is successful and fulfilling. And it has been very fulfilling to see a change implemented that I helped to create.
Our facility has a tracking process for adding parts and equipment to our storage warehouse. A time-consuming part of implementing a large capital project is making sure all of the new equipment is properly tracked.
Every pump, motor, bolt, and seal needed to be individually identified on separate forms. The forms contained a lot of repeated information such as the person's name, the date and reason for filing. Filling out hundreds of these forms was a huge time sink for the maintenance managers that had to do it.
I decided to try and make this process more efficient by using Excel. There were two constraints though. First, the warehouse department wanted the information to be presented in the same forms they had always used, and second, some members of the maintenance department were not particularly technologically savvy.
I created a spreadsheet in Excel that allowed the user to copy/paste or drag down repeated information and then automatically format using mail merge. On average, this made filling out the forms three times faster.
To teach the maintenance managers how to use mail merge, I created a "how to" presentation and held a training session. After a couple of initial speed bumps, the majority of the group got on board with the new system. It was then adopted by two other sister plants across the country.