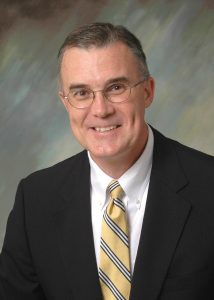 After 14 years of service to Iowa State University (ISU), Cerwick Faculty Professor James (Jim) Alleman has decided to leave the university. Alleman is a faculty member of ISU's Department of Civil, Construction and Environmental Engineering (CCEE) and served as the department chair from 2005-2011.
"During his time at Iowa State University's Department of Civil, Construction and Environmental Engineering, Jim Alleman has provided leadership as department chair and in his role as an environmental group coordinator," said David Sanders, Greenwood Department Chair and Professor. "He has worked to include new, exciting opportunities in environmental engineering that will prepare students for the challenges of real-world practice. His research is well-known, both nationally and internationally. Jim is truly a globally-minded scholar, and we wish him the very best in his retirement."
Alleman's research interests cover three aspects of engineering: environmental engineering, the history of engineering and sustainability. Of special interest is his work with the Chernobyl new safe confinement structure while serving as a Jefferson Science Fellow for the United States Department of State and the United States Agency for International Development.
Alleman's additional academic appointments and honors include his time as a Fulbright research-scholar at the Technical University Crete in Greece and his American Society of Civil Engineers Fellow standing. He has also served as a diplomat for the American Academy of Environmental Engineers.
"My years at Iowa State were blessed with memorable faculty, staff, students and alumni friends whose world-class qualities were truly inspirational," Alleman said. "Two of my favorite undergrad faculty as an undergrad student at Notre Dame (Don Linger [former civil engineering chair of the University of Notre Dame and ISU CCEE faculty member] and Jerry Marley [Iowa State M.S. CE'62 and Ph.D. CE'69]) first opened my eyes to Iowa State's tradition of academic excellence, followed by several decades of escalating admiration for the department's environmental superstars."
"After joining ISU, though, my respect skyrocketed after learning about the departments's extraordinary history of faculty and staff superstars, including: Jack Cleasby, Bob Baumann, Dick Dague, Jim Young, Al Austin, Paul Morgan, Anson Marston, Merlin Spangler, Dick Handy, Jim Hoover, Joakim Laguros, Jim Cable, Tom Cackler, Thomas MacDonald, Ed Kannel, Tom Maze, Tom Jellinger, Jerry Chase, Jim Rowings, Mark Federle, Wallace Sanders and Sam Carstens," Alleman said.
In Alleman's words, "These leaders all shared the same inspirational 'science-with-practice' mindset" that built the foundation for the Cyclone tradition of excellence in teaching and research."
During his 52-year career, Alleman has authored or co-authored more than 70 articles in peer-reviewed journal publications. He has contributed to four books and has served as a speaker at countless seminars, presentations and conferences. His total career research funding exceeds $12 million.
Alleman earned his bachelor's, master's and doctoral degrees from the University of Notre Dame. His bachelor's and master's degrees are in civil engineering and his doctoral degree is in environmental engineering.
Listed below are Alleman's honors and achievements over the span of his career:
Jefferson Science Faculty Fellow, U.S. Department of State, 2014
Fellow, American Society of Civil Engineers, 2010
Diplomat, American Academy of Environmental Engineers, 2010
Fulbright Research-Scholar, 2005
Best Core Teacher Award (Wansik Award), Purdue University School of Civil Engineering, 2002
Best Researcher Award (Wansik Award), Purdue University School of Civil Engineering, 2002
American Consulting Engineers Council Award, 1986
Outstanding Teacher Award (Harold Munson Award), Purdue University School of Civil Engineering, 1985