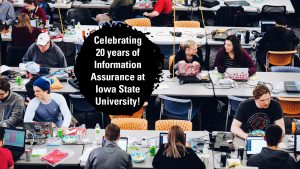 Iowa State University's Department of Electrical and Computer Engineering is celebrating 20 years of cyber security education, marked with a new major in cyber security engineering, beginning this fall.
Two decades ago, in May 1999, the National Security Agency launched the Centers of Academic Excellence (CAE) designation program, with the goal of reducing vulnerability in the United States national information infrastructure by promoting higher education in cyber defense and developing professionals with cyber defense expertise. The program also aimed to raise the nation's ability to actively defend national assets through defensive best practices.
Seven universities were initially designated as CAE schools, including Iowa State University, and in the year 2000, ISU's Information Assurance Center (IAC) was formed. Since then, the IAC has strived to become a nationally recognized authority in information assurance research, teaching and outreach.
Read the full press release from the NSA here.