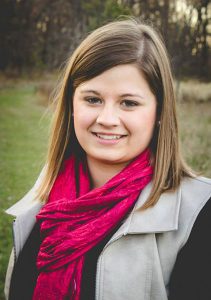 Janessa Boley, academic advisor in chemical and biological engineering, received the 2019 Iowa State Early Achievement in Learning Community Coordination Award.
This award is given to an Iowa State faculty or a staff member who has demonstrated outstanding performance in learning community coordination early in their professional careers.
Other learning community coordinators from the College of Engineering were also recognized for their years of LC service:
5 years
Nataliya Altukhova, lecturer in aerospace engineering
Mindy Heggen, academic advisor in mechanical engineering
Ben McCarty, student services specialist in agricultural and biosystems engineering
10 years
Andrea Klocke, academic advisor in materials science and engineering
The College of Engineering has 19 learning communities. Learning communities provide new Iowa State students with peer and faculty mentoring, and students also get the chance to take courses with others who have similar academic interests.