Two alums from Iowa State University's Department of Electrical and Computer Engineering, Michael Davies and Tara Mina, recently received prestigious fellowships from the National Science Foundation (NSF).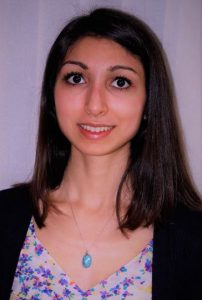 Davies, currently a student in his first year of pursuing a doctorate in computer architecture at the University of Wisconsin-Madison, and Mina, a second-year student pursuing a master's degree in the electrical and computer engineering department at the University of Illinois at Urbana-Champaign, are both conducting their own research — monumental research that awarded them the fellowship.
The NSF fellowship the two received is known for recognizing outstanding graduate students pursuing research that can have a true worldwide impact. Both students said they were surprised to receive the award.
"I immediately forwarded the email to my adviser and we were both very happy. Even now it feels unreal that I was selected to receive the fellowship," Davies said.
Mina, who is pursuing research in GPS spoofing detection, said she appreciated knowing that people in NSF see how her research can change the world.
"Receiving the NSF fellowship was a rather nice confirmation that the research I proposed with regards to GPS spoofing detection is something that would not only be impactful for our society, but can also have significant contributions and advance general knowledge in the field," Mina said.
While the two ISU alums are successful now, they attribute a lot of their success to their time here at Iowa State.
"Iowa State helped develop a strong foundation in my educational career. Besides Iowa State's strong academics, my experience working with freshman students in an introductory electrical engineering lab course was also extremely valuable," Mina said. "It also helped instill a deeper understanding of what it means to be a critically thinking engineer, something we also tried to explore with the students during each lab session of electrical engineering 185."
For Davies, the hands-on opportunities he received in ECpE at Iowa State shaped him into the student he is today — and a certain professor allowed him to have this opportunity.
"My involvement in undergraduate research was one of the best experiences I had during my undergraduate career," Davies said. "I had the fortunate opportunity to work with Dr. Baskar Ganapathysubramanian in the mechanical engineering department for 4 years during my degree. Dr. Baskar not only helped prep me for a research-oriented path, but he also gave me a lot of experience working with high-performance computing, computational science and machine learning."
According to Davies and Mina, Iowa State offered them many opportunities to conduct research of their own and really get involved in the field. Whether it is in GPS spoofing detection or computer architecture, the research the students do now — and received their NSF fellowships for — may trace back to their time discovering research at Iowa State.