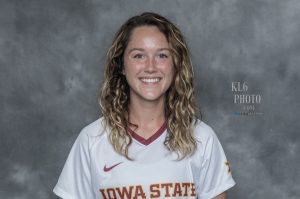 Riley Behan has been named spring 2019 outstanding senior in materials engineering. Each semester one graduating senior in each major is honored for exceptional accomplishments and contributions to the Iowa State community.
Behan graduates with a 3.89 GPA and played on the Iowa State soccer team for four years, serving as captain for two years. Behan actively participated in research alongside her athletic schedule. Behan worked in research for ABE, with the Center for Bioplastics and Biocomposites, and MSE, with the Jiang Lab. Behan interned for two summers with John Deere in Moline, Illinois, and she participated in a National Science Foundation sponsored Research Experience for Undergraduates.
Behan was recently accepted into the joint M.D./Ph.D. program at the University of Iowa.
"I realized I wanted to find a way to close the gap between physicians and engineers," said Behan. "While medicine and engineering seems to overlap more than ever in this day and age, the disconnect between physicians and engineers grows wider every year. I want to bring cutting edge engineering to medicine."