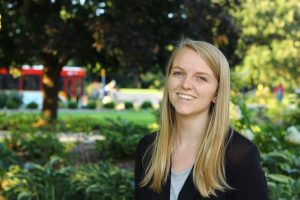 Courtney Beringer has been named spring 2019 outstanding senior in mechanical engineering. Each semester one graduating senior in each major is honored for exceptional accomplishments and contributions to the Iowa State community.
Beringer graduates with many accomplishments. In four years, she has presented research six times, worked on two research papers for academic journals, sat as the engineering senator for Student Government and worked as a research assistant all while maintaining a 3.91 GPA. Beringer looks forward to working for Modus Engineering in Des Moines, Iowa, after graduation and eventually going on to study for her Ph.D. in mechanical engineering.  
Beringer advises first-year students to find both fun and structure in their school life.  
"Have balance in your college experience," said Beringer. "Sometimes you have to put down the books and close the computer and go to a campus event with friends because your mental and physical health need that balance. By joining an academic and non-academic club, going to lectures and cultural events, and so much more, you can diversify your experience and get the most out of your college experience."