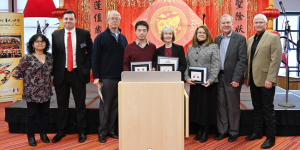 Shan Jiang, assistant professor of materials science and engineering at Iowa State University, launched the Graduate-Undergraduate Mentoring Program, or GUMP, to provide professional development for international students and build community between international and domestic graduate students.
Jiang recently was presented the Education Leadership Award by the Chinese Association of Iowa for his work with the GUMP program. The award recognizes educators who are making the difference in the lives of students every day with leadership for learning, communication, professionalism and community involvement.
"Jiang has offered a lot of support to our Education Without Borders program and helped create an encouraging and inclusive environment for the international students," said Swallow X. Yan, executive director of the Chinese Association of Iowa.
GUMP's two major goals focus on giving international students an outlet to practice their social skills and for students to feel more comfortable reaching out to others. Program participants attended workshops and engaged in networking.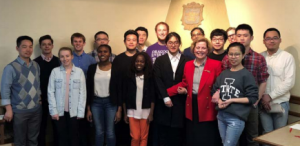 "I earned my undergraduate degree in China, and when I came to the U.S. to get my Ph.D., I experienced a culture shock," Jiang said. "I created this program to give both domestic and international students an opportunity to learn each other's culture. I would like to help international students make the transition smoothly and embrace life in America."
In its pilot program last year, nearly 20 students in materials science and engineering and chemical and biological engineering participated in GUMP. Jiang hopes to continue the program in future semesters.
Learning and connecting
Etiquette expert Patricia Tice presented lectures and dining etiquette training to GUMP participants. Tice focused primarily on the fundamentals of communication skills, such as greetings and introductions. Jiang believes these basic skills are exactly what international students need to improve interactions with their domestic friends and in their future workplaces. Students paired up throughout the program to practice the techniques they learned.
The last event for GUMP was an etiquette dinner at the Joan Bice Tea Room on Iowa State's campus with Tice and Sriram Sundararajan, the College of Engineering's associate dean for academic programs.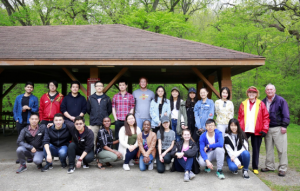 GUMP participants enjoyed a "manners in motion dinner" to practice skills in effectively handling luncheon/dinner professional interviews and celebrated their accomplishments in the program.
Meaningful career development
Xingbang Zhao, a student in mechanical engineering and GUMP participant, said the program was meaningful to international students.
"Professor Jiang provided an opportunity for us to mingle with domestic students, learning western etiquette, especially by attending Patricia Tice's manners lectures," said Zhao.
Kyle Miller, a graduate student in materials science and engineering, said GUMP was a valuable opportunity to meet and connect with fellow students.
"GUMP was started with the idea to bring people together. Shan wanted to bring together international, domestic, graduate and undergraduate students to share in each other's culture and experiences. I feel proud of my role in helping to learn and share with my peers," said Miller.
"Acclimating to a different environment can be challenging, especially when the cultural setting is different from what you have been raised in," Millicent Orondo, a Ph.D. student in materials science and engineering. "Initially, my goal was to learn the American culture, but the program superseded my expectations."
 "I was able to find my identity, define my career goals and practice networking," Orondo said. "I can say that I am now more confident."