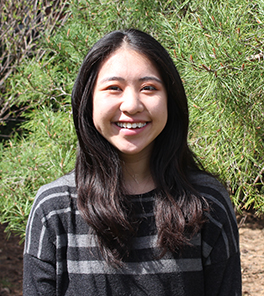 Yekaterina (Kitty) Vang, a junior (senior by credit) chemical and biological engineering major, has been elected president of Iowa State's International Student Council (ISC), which serves as a platform for the university's international students to promote fellowship, the exchange of ideas, showcase cultures, provide educational and social services, and more.
Vang will begin serving her term as president immediately, and will remain in the position through the spring 2020 semester. She joined the ISC as a general member in the fall of 2017 and then became the organization's secretary. Her desire to run for president stemmed from an idea she initiated to improve one of the group's annual events.
"Each fall the ISC holds an International Week, which is a five-night showcase of many different activities and information sessions to promote international understanding," she explains. "But a lot of people were unable to take part in the entire event because it was spread out over so many nights. I launched a plan to change it to take place all in one evening, the same way a lot of other international student groups have done. It will change from International Week to International Night. I want to see this through to make sure it happens to bring people closer together and to improve attendance, and as president I will be able to do that."
But Vang says she also appreciates the fact that International Student Council plays a huge role in the lives of international students. "I like to call it 'a home away from home' for these students – a place where they can feel like they're part of a family and have a great support network. It also provides a platform for international students to address any challenges they might have regarding their adventure at Iowa State," she says, "and I'd like to play a larger role in shaping that."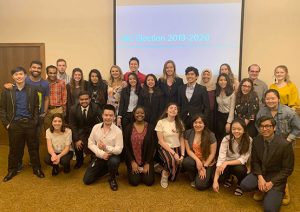 Vang says the International Student Council typically has anywhere from 45-55 or more members, both international and domestic students, and individuals must apply, and must be interviewed. On this day Vang is preparing to take part in many hours of interviews for prospective council members. The council works closely with a student general assembly, which involves the many student organizations on campus. One member from each of those organizations is involved in ISC. The council also maintains various committees that hold their own regular meetings outside of the general council meetings. Meetings are typically held weekly.
Vang, who is from Oakdale, Minnesota, is planning to graduate with a B.S. in the fall semester of 2020. She is now wrapping up her junior year in the CBE curriculum, and is also working with CBE faculty member Derrick Rollins in medical research connected to his electronic monitoring and calculation system for diabetics. "I'm very interested in medical-related research, and ideally I want to go to medical school," says Vang, "but if I end up going directly into the work force, I'd be very happy with biomedical research." "But," she adds, "I also want to get an MBA, so I can really have an understanding of how business works, because one day I also want to own my own business."
For now, Vang will be helping to run business for the International Student Council: "I'm very excited to get started with this new adventure!"