Iowa State University's Department of Agricultural & Biosystems Engineering (ISU ABE) has a unique opportunity for students interested in soil-machine interaction. The ISU Soil-Machine Dynamics Laboratory (SMDL) is located at the ISU Agricultural Engineering and Agronomy Research Farm in Boone, Iowa. Mehari Tekeste, an assistant professor in ISU ABE, leads the laboratory teaching and research programs. The purpose behind this lab is to evaluate machine systems performance as equipment interacts with soil, to measure soil compaction and to perform wear characteristics of soil-engaging tools.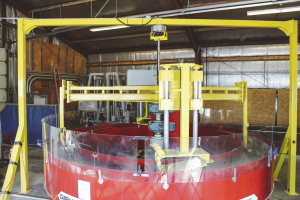 The lab currently includes three major tests: a mobility soil bin test, a blade soil bin test, and a circular soil bin test. Tekeste is passionate about the lab and excited for its potential to impact the work of students, industry partners and agricultural professionals. The SMDL is one of the only labs in North America that conducts scaled tillage wear tests on equipment. Professionals in this lab will test machine systems either for design or performance evaluation, and provide test data for simulation and modeling.
"There is a lot of agricultural and construction equipment engaged with soil and crops," Tekeste said. "The rare combination of machine performance and design built into one lab makes the SMDL unique to both Iowa State and the nation. To be able to use it for teaching and research is such a great opportunity to advance machine systems engineering."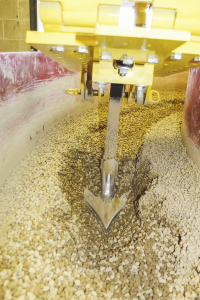 This lab is also used for material characterization and soil dynamics experimental testing. Tekeste says that students taking courses from the advanced machinery engineering and manufacturing systems focus area within ISU ABE will have the opportunity to enhance their problem-solving skills and conduct hands-on laboratory exercises in the lab.
"The SMDL is important for crop farmers and industry because many farmers need engineering data to make the right decision in the quality of work that they do — for example, in tillage or compaction," Tekeste said. "For manufacturers, this lab is important for early manufacturing development. If manufacturers have a new product in mind, they could test it in the lab in a cost-effective way."
"It's given me a much broader idea of what can actually be done with tests, of taking existing equipment and seeing what factors you can slightly modify in order to do different tests," said Matt Schramm, an ISU ABE graduate student.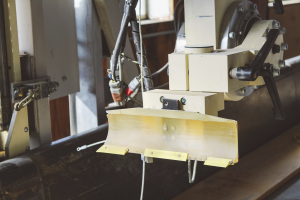 "This lab is going to be a center of excellence for soil and machine dynamics research, teaching and extension services for the nation and internationally," Tekeste said. "Many engineering companies are wanting virtual simulation before they make a physical prototype. The SMDL at Iowa State will be a good service to industry professionals, too."
The SMDL is currently focusing on mobility soil bin and circular soil bin tests. Within the year, Tekeste's lab group plans to incorporate blade soil bin tests to the classroom curriculum and industry outreach.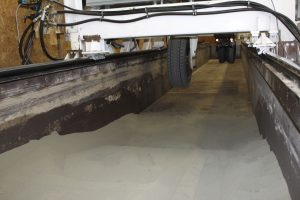 Tekeste's team is also comprised of Richard VanDePol, Brian Steward, Andy Vespestad and Stuart Birrell.