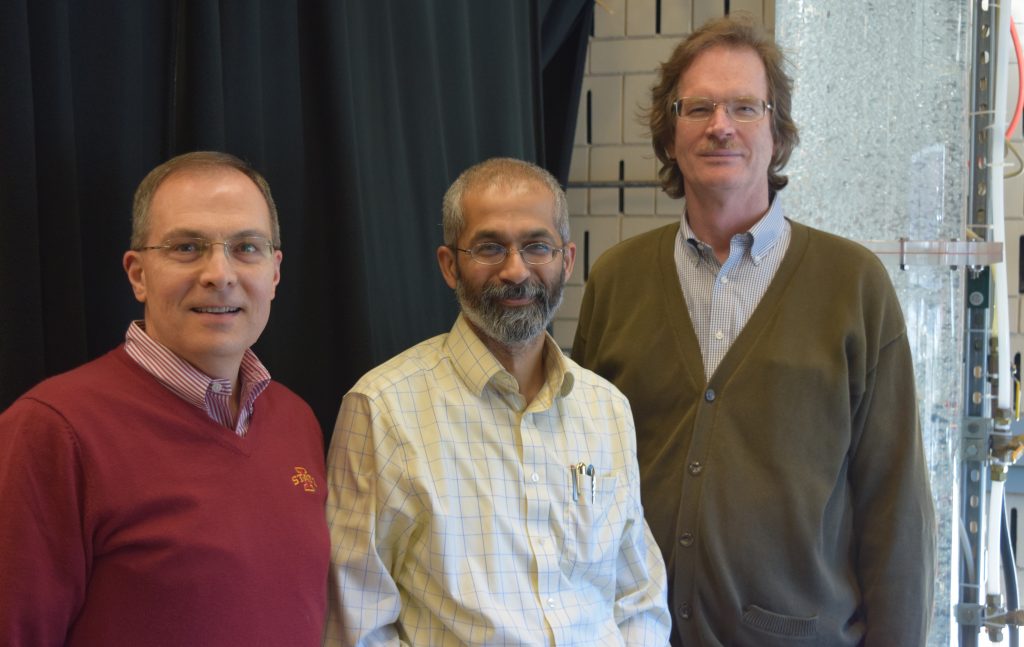 After a long start-up process, the Center for Multiphase Flow Research and Education, also known as CoMFRE, is off to a great start.
CoMFRE Start
The Iowa Board of Regents in December 2017 elected to give official "center" status to CoMFRE after a multi-year application process with assistance from the College of Engineering. In order to gain the status of "center" (or "institute"), that center (or institute) "shall be well-organized, adequately funded, and appropriately integrated into the university, to support the mission of the university, particularly in the areas of research and public service," according to the Board Policy Manual.
"Having the status of a center will help provide the credibility when pursuing large grants that require a team with a history," said Ted Heindel, director of CoMFRE and Bergles Professor of Thermal Science in the mechanical engineering department.  "It also helps with recruiting talented students and faculty because they can see we have a critical mass in the area of multiphase flow research."
Shankar Subramaniam, an associate director of CoMFRE and professor of mechanical engineering, said that having the status of a center helps to give better visibility to the research taking place there.
"It gives us external visibility to both industry wanting to work with CoMFRE faculty and also to other universities who might team with CoMFRE faculty on large center-type grant proposals," said Subramaniam. "It also establishes our presence internally at ISU. Tracking our accomplishments as a group is also easier with center status."
CoMFRE relocated to Howe Hall on the west side of campus in January 2018. CoMFRE was also able to hire its first full-time program coordinator, Jan Seibel, at that time. Heindel indicated that it is important that CoMFRE has staff support, and Jan will be able to help coordinate and organize CoMFRE activities, as well as help as the center grows.
The History of Multiphase Flows at ISU
Multiphase flow activities at Iowa State go back many years. For example, professor and ME chair Art Bergles (chair 1972-1983) had a large experimental program in boiling and two-phase flows, and there was even a region in Black Engineering that was designated for the study of large vertical two-phase flows when it was first occupied in 1985.
The strong focus in computational methods in multiphase flows had its start in the 1980s as well, where there was a strong research program in computational fluid dynamics (CFD). The development of the CFD program can largely be attributed to former mechanical engineering professor Dick Pletcher and former aerospace engineering professor John Tennehill. With a firm CFD program established for single-phase flow, Iowa State's program grew to also include expertise in multiphase flow science including gas-solid, solid-liquid, bubbly and droplet-laden flows.
In 2002, Subramaniam teamed up with chemical and biological engineering professor Rodney Fox and Ames Laboratory researcher David Hoffman to establish a Granular Flow and Kinetics Program which led to the formation of the Granular and Multiphase Systems (GAMS) research group. CoMFRE was established as a research initiative in 2014 with the assistance of the Engineering Research Institute's Accelerating Collaboration in Research Initiative (ACRI).
"The College of Engineering's ACRI program operated through the Engineering Research Institute was crucial in terms of providing the seed funding and impetus for the GAMS group to organize its research direction and work more collaboratively together," said Subramaniam. "This led to new research and also the ability to go after large grant opportunities. Working with the Associate Dean for Research Arun Somani and staff at the ERI helped us develop our Industry Membership Program and prepare for center-type federal funding opportunities."
From its inception, CoMFRE included experts in computation modeling and CFD, as well as experts in experimental multiphase flows, and provides a unique critical mass of expertise that is not found elsewhere.
CoMFRE's Future
CoMFRE is currently composed of 22 affiliated faculty and research staff members from various fields of engineering, including aerospace, chemical and biological, civil and environmental, and mechanical, and includes both computational and experimental expertise in multiphase flow research and education.
"Multiphase flows are ubiquitous. They are found in our bodies, in our homes, and in our environment. Having several disciplines represented in CoMFRE just shows the breadth of multiphase flow applications and activity on campus. This further strengthens the credibility when applying for large grants when several disciplines are represented in the research team," Heindel said.
In addition to having a diverse array of engineering disciplines, CoMFRE also has a mix of older and younger faculty.
"A mix of junior and senior faculty is good for the continued growth of CoMFRE," said Heindel. "Senior faculty provide credibility, experience, direction, and mentoring to CoMFRE activities, while junior faculty bring new ideas, new application areas, and new techniques to CoMFRE research initiatives."
While these faculty members typically serve as primary investigators (PIs) on projects, their research teams are often composed of both graduate and undergraduate students.
"The critical mass of multiphase flow researchers brings talented students to ISU who have an interest in multiphase flows," said Heindel. "Also the students from multiphase research teams interact with and help each other, which adds to the student research experience."
Much like the purpose of Iowa State University at its founding was to help Iowans and contribute to the state, CoMFRE strives to advance this part of the university's original mission.
"Multiphase flows are found in medical applications from blood flow to drug manufacturing and delivery. Food stuffs and consumer products also involve multiphase flow which affect people," said Heindel. "Multiphase flows are also found in agricultural and biomass processing, as well as water and air quality applications. Hence, CoMFRE activities will not only benefit the people in the state of Iowa, but will reach far beyond state and national boundaries to impact society in all corners of the world."