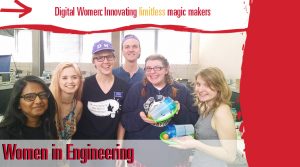 Digital Women: Innovating limitless magic makers
As a woman in engineering, it can be easy to feel like an outcast — especially when there aren't many other women around.
About 12 years ago, an organization called Digital Women was formed at Iowa State University, dedicated to building a community and a networking opportunity for women in computer science, software engineering, electrical engineering, computer engineering and management information systems (MIS) hosted in the Department of Electrical and Computer Engineering.
Back in 2007, Digital Women was a lot smaller than it is now, without as many members or a strong reputation. Now, the organization has dramatically increased, formatting a place where women in digital fields can relate to like-minded peers. A typical meeting consists of 20-40 members.
"There is a sense of belonging and community that has grown over the years, and I think that's really important," said Saba Shaarbaf-Toosi, a senior in software engineering and social chair of Digital Women. "You see the same people show up to meetings weekly who are a big part of the club, and you see those same faces help out and volunteer at events or bring a new friend to a meeting another week."
Digital Women has companies attend some of their meetings, helping students network and learn about different opportunities in and out of college. The organization hosts resume workshops and exercises to enhance student's future careers.
But aside from the developmental aspects within Digital Women, the organization also spends a lot of time recruiting others into their team or hosting events. Coming up on Friday, April 5, Digital Women is hosting their annual female-focused hackathon, Code Camp.
"Code Camp was what got me interested in coding when I first participated and also is what encouraged me to become part of the exec team of Digital Women," said Shaarbaf-Toosi.
The community brought into light the importance of inclusivity and diversity through events like Code Camp.
"When I went to other clubs my freshman year, I felt like an outcast and didn't belong there," said Sydney Ehlinger, president of Digital Women and senior in software engineering. "At Digital Women, right away I felt included in everything."
Some members of Digital Women have even changed their major solely because of the organization.
"Over the following semesters while attending Digital Women, I learned about the software engineering program and switched my major because I felt it better fit my goals," said Sara Mace, public relations chair for Digital Women and senior in software engineering.
Before joining Digital Women, Mace was pursuing a major in mathematics. She wasn't aware software engineering was a possible career path until she joined Digital Women. But for others, the organization may have been the extra reinforcement needed to continue pursuing a difficult major.
"I honestly think Digital Women is one of the reasons I haven't changed my major," said Alexis Cordts, treasurer of Digital Women and sophomore in software engineering. "There are many difficult classes in my program of study, and Digital Women gives me a constant group of people I know I can reach out to if I am struggling in a course."
"[Digital Women] is really motivational," Mace said. "As someone who switched majors into engineering, I did not take the intro to engineering classes, and Digital Women has helped to welcome me and make me feel like part of the College of Engineering," said Mace.
Digital Women meets every Thursday at 6:30 p.m. in 3043 ECpE Building Addition in Coover Hall. All you need to do to join is sign up at https://www.stuorg.iastate.edu/auth/login?REDIR=/site/dw1/join and begin attending meetings.
"It's a club that allows women, a significant minority in technical majors, to come together and be themselves. I consider Digital Women my 'fun club' because of these opportunities I don't get frequently in my major," said Ann Gould, a member of Digital Women and senior in software engineering. "We really allow people to be themselves. Everyone is welcomed, and there is no need to impress others."
With extra opportunities to network, attend social events, gain unique knowledge about technology and, of course, dive into some free food, Digital Women offers many layers to expand on for women in the digital field.
"Absolutely I would recommend Digital Women to females in technical majors," said Ehlinger. "The sense of community that we form is really inspiring."