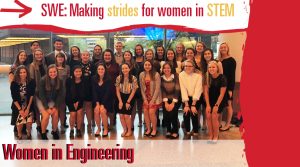 SWE: Making strides for women in STEM
Over 40 years ago, the Society for Women Engineers (SWE) was founded at Iowa State University and now has over 200 members. SWE at Iowa State allows members to connect with professional organizations and role models through conferences around the nation, while also reaching out to younger girls and inspiring them to become involved in STEM.
ISU SWE is a local part of an enormous organization. They are a part of the national SWE organization, with many societies across the nation.
Emily Young, a senior in software engineering in the Department of Electrical and Computer Engineering, has been a member of SWE since her freshman year. For the last four semesters, she has served on SWE's executive team.
"SWE has been a huge staple in my college career," Young said. "We pride ourselves on our outreach to aspiring women engineers. We hold many events throughout the year for elementary, middle school and high school-aged girls to encourage STEM careers."
Just last semester, SWE traveled to Minnesota for the SWE Conference and had many networking opportunities. In the summer, the organization hosts a camp for younger, aspiring women in STEM.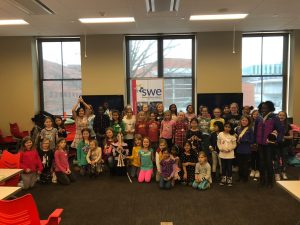 "We partner with WiSE for a week long camp in the summer that lets high school-aged girls explore all of the engineering majors that ISU offers, as well as giving them a 'college experience.' They get to live in the dorms, eat in the dining halls and do fun things on campus," Young said.
While SWE focuses on inspiring women in STEM and increasing their representation, it doesn't mean only women can be involved.
"We are open to all majors and are not just an exclusively female club," Young said. "We love getting the guys in our meetings, too. It's a great experience for everyone to know what it's like to be a woman in engineering."
SWE has meetings at least once a month from 6:30-7:30 p.m. with free food at every meeting. The meetings begin with roughly 20-30 minutes of socializing and eating dinner and end with a presentation from an employer. In the meeting, the members of SWE learn about potential internships, jobs and individual experiences of the employer.
Young said SWE has made great strides toward aiding in the increase of female representation in the industry. While the members attend serious events, like conferences and meetings, they always make it fun.
"I have made so many friends and memories with SWE," Young said. "The experiences range from one-on-one chats with members, to important conversations with employers, to traveling around the U.S. to celebrate women in engineering and so much more."
If you are interested in joining SWE, check out their website at https://stuorgs.engineering.iastate.edu/swe. Their next meeting takes place on Wednesday, March 13 at 6:15 p.m. in 2155 Marston 2155.