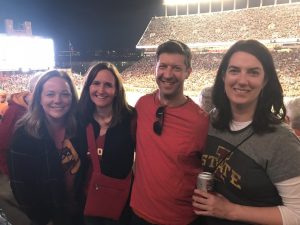 Photo courtesy of Megan O'Leary, far right.
Interview with Megan O'Leary ('99 BSME, '00 MSME)
Why did you choose Iowa State?
My mom is a fellow Iowa State graduate ('68), and I fell in love with the beautiful buildings and manicured lawns on campus visit during a family trip when I was 14. I was intrigued by engineering, and I knew Iowa State had a fantastic engineering program, so it sounded like a great fit.
How did you get involved on campus?
As an undergraduate, I was a member of Society of Women Engineers, the Varsity Women's Soccer Team, and Alpha Phi Sorority.
What advice do you have for current Iowa State mechanical engineering students?
Ask a lot of questions! When I was a student, I was intimidated to admit if I didn't inherently know something, but now I realize I'm not supposed to know everything. Learning and figuring out new things is part of the fun! If someone is unable to effectively explain a new concept to you, it is most likely an indication that they don't understand the concept well themselves and not a sign that you cannot understand it.
What do you do now?
I work in the trial services division of FTI Consulting in Chicago, focusing on the creation of presentations for litigation disputes. Every project is an opportunity to problem solve and design a way to present complex issues, which aligns well with my engineering background. I'm a big fan of the Cubs and of traveling, especially to cheer on my beloved Cyclones in football and basketball.