Kwizera Imani, a senior in aerospace engineering, is a leader on the rise in both engineering and STEM education. Imani nominated to the advisory board for the Iowa Clearinghouse for Work-Based Learning.
When we last spoke with Imani, he was an intern with Collins Aerospace – formerly Rockwell Collins – in the commercial division, writing user guides for new systems in aircraft cockpits. He was also a member of the President's Leadership Class and the Hapkido club on campus.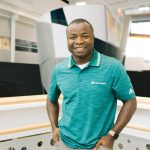 Since then, Imani was elected as a Community Advisor in the residence halls where he "fosters an inclusive environment where students feel protected, valued, and creates an environment that is conducive to learning," Imani said. He interned again with Collins Aerospace, working this time in their Connected Aircraft Innovation Lab where he was able to gain experience integrating systems that interface with new products. Imani is also a Collins Aerospace Student Ambassador at Iowa State, which includes sharing his internship experience with Iowa State engineering students.
Imani was recently appointed by Governor Kim Reynolds to the Iowa Clearinghouse for Work-Based Learning. The Iowa Clearinghouse for Work-Based Learning helps expand student and business work-based learning opportunities and build upon existing school business partnerships. "The Iowa Clearinghouse for Work-Based Learning is something that the STEM Advisory Council and other organizations have been actively engaged in, to get the students excited about what they are learning," Imani said. "The primary goal is to review successful Work-Based Learning programs across Iowa, replicate their framework and make it accessible for all schools in Iowa. Being a part of this committee, I see myself providing students an opportunity to be exposed to a real working environment before attending college and giving them a chance to decide on a career path."
After graduation, Imani is looking forward to working in a systems engineering role with a focus on avionics systems. He will be again interning with Collins Aerospace in the summer, moving this time to the Military Rotary Wing department. Imani hopes that a diverse internship experience with Collins Aerospace will help prepare him to progress in his engineering career. Alongside his internship, Imani wants "to continue my work in the education system to provide a path for underrepresented communities to find careers."