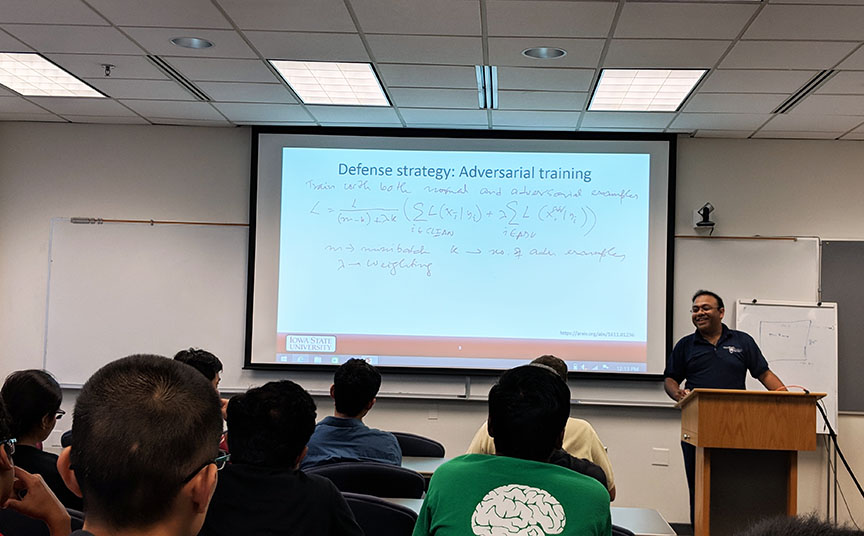 Cyclone Engineers are staying at the forefront of emerging, cross-disciplinary areas of research with the help of a new faculty-led lecture series.
Launched last fall, Iowa State engineering faculty, post docs and grad students are coming together to exchange expertise focused on fast-moving areas of engineering. The initial lecture series topic was machine learning.
"The 'short course' idea was sparked by a recent explosion in discoveries in the area of robust machine learning," said Soumik Sarkar, assistant professor of mechanical engineering, who organized the lectures with Chinmay Hegde, assistant professor of electrical and computer engineering. "There is just so much new and exciting that the best way for us to explore the topic was to divide and conquer – and come back together and learn from each other."
Different faculty lectured on different aspects of new papers in the field, drawing a large, cross-department audience.
"We thought maybe 10 people would show up, but we have more than 50 show up at each lecture," said Sarkar. "It was a great mix of people, with a lot of 'regulars' that attended all the sessions."
According to Sriram Sundararajan, associate dean for academic affairs, the lecture participants' outstanding engagement is perhaps as valuable as the content itself.
"This grassroots-driven effort is evidence of our Cyclone Engineering culture of collaboration and continuous learning," said Sriram. "New ideas and new research partnerships are sure to come from this type of exchange of ideas."
Get involved
With a successful first series completed, the College of Engineering is seeking topics and organizers for future series. Contact Sriram Sundararajan and Arun Somani to get involved.