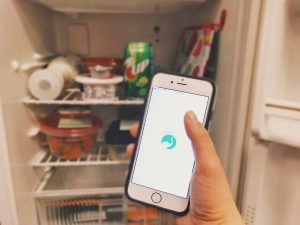 ECpE's Zambreno encouraging student's start-up ambitions
From the beginning of his education to now, Amar Krishna, an alumnus of Iowa State University, has always been a driven dreamer. Just recently, Krishna created a groundbreaking start-up app called Chefling, a kitchen assistant app available on the app store at no cost.
Although Krishna says he may be successful now, he says a large portion of his success is based at Iowa State — and more specifically, Joseph Zambreno.
Zambreno, a professor in Iowa State University's Department of Electrical and Computer Engineering, has worked with many students throughout his time as a professor. On a cold day in the fall of 2012, Zambreno was approached by Krishna, a student at ISU eager to learn more — and believing Zambreno would be the perfect mentor.
Originally from India, Krishna moved to Iowa State to study the science of computers. Krishna spoke to Zambreno that fall searching for a research mentor with a background in data mining. While Zambreno wasn't a professor in computer science — instead engineering — he still had the credentials Krishna was looking for.
Together, Zambreno and Krishna worked to complete a start-up project Krishna was pursuing. Zambreno noticed Krishna's drive and passion for personal fitness and health, as well as his motivation to succeed. Now, Krishna's dedication to health has largely impacted his career, with Chefling revolving around health habits like diet.
"Amar was unique in that he had a clear entrepreneurial drive," Zambreno said. "He was using his graduate education to fill in the technical gaps he knew in order to help his next start-up be more competitive."
After receiving his Master of Science in computer science, Krishna graduated from Iowa State and, at the recommendation of Zambreno, furthered his career at Northwestern University, where Zambreno was originally educated. While at Northwestern, Krishna pursued his studies with Zambreno's own former doctoral adviser.
"The idea was to disrupt the kitchen space using AI [artificial intelligence], building the ultimate AI-driven kitchen assistant. I have a great co-founder and co-CEO in Jeff Xie, and we have done something amazing so far. We are just getting started in this space," Krishna said.
Krishna and his co-founders at Northwestern are still improving Chefling and are already planning more in the health-related world. Even more so, Krishna was just selected "Among Top Entrepreneurs and Innovators of 2018," according to Northwestern University's McCormick School of Engineering.
When Krishna received this honor, he was inspired to build more.
"[The honor was] pretty surreal, but at the same time a great motivation to keep going and build something really useful," Krishna said.
Krishna says that Iowa State is a large reason for his successes in life. The university is where he met both his wife, Aditi Agrawal, and Zambreno. He and Zambreno still keep in contact often.
"The best part of advising graduate students is seeing how their time here at ISU can be so transformative to their future lives and careers," Zambreno said. "For many of our graduate students, a successful Master of Science or doctorate opens up so many fulfilling job opportunities that otherwise would have been difficult for them to obtain."