Allison Theisen, senior in Industrial Engineering, is diversifying her undergraduate degree program at Iowa State University with an entrepreneurial studies minor.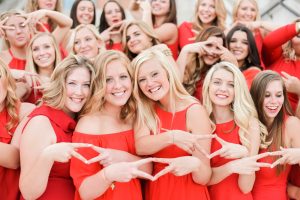 As the director of social enrichment for her sorority, Alpha Delta Pi, Theisen planned a lot of different events for about 300 people, and she found that the social and planning aspects of the job appealed to her.
Theisen always wanted to pursue a business-related engineering position but found that event management was also appealing to her and that opening her own events center someday would be a dream come true.
Rather than changing her major half-way through, Theisen added the entrepreneurship minor to continue pursuing both goals.
"I have a passion for leadership, and being my own boss is very enticing to me," Theisen said. "Meshing these two majors allows me to take the foundation that I've learned in both majors and apply them to the other."
"I'm one of the only IE students pursuing that minor," Theisen said. "Most people who want to go into business engineering go into sales, but there are definitely more options."
Learning from Experience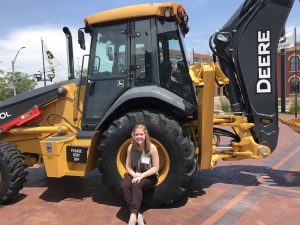 Theisen has interned with Busch Construction, in construction engineering, John Deere, in supply chain, and, mostly recently, HNI Corporation, a furniture manufacturer out of Muscatine, Iowa – a position that she discovered at the Engineering Career Fair.
In fact, much of the furniture in the Department of Engineering's own Marston Hall came from HNI!
At HNI, Theisen's main project was to relocate an assembly line in an area that hadn't been paid much attention in the past few years.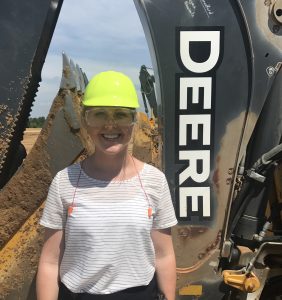 "I had the freedom to do whatever I wanted with it, and everyone supported the ideas that I had," said Theisen. "I had really good guidance throughout the project."
Theisen was able to use this experience as her independent study credit for her entrepreneurship minor because of the flexibility of the position. This work allowed Theisen to use her engineering skills while innovating and using entrepreneurial skills to guide her.
"I really got the chance to explore my own skills and how they cross over to the two different fields," Theisen said.
Impact at Iowa State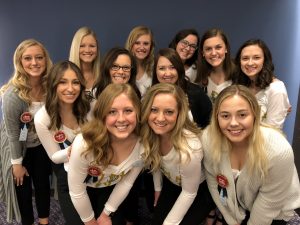 In addition to heavy involvement in her sorority, Theisen is involved in Iowa State's Dance Marathon, Circle of Sisterhood and is an IDEAL Peer Mentor for freshmen beginning their engineering education.
In her position as a peer mentor, she is an assistant for about 10 students of engineering 101.
According to Theisen, assisting young engineering students is very rewarding and points students in the right direction.
"Professionalism and communicating what you're trying to say in an effective manner has always been taught by my professors," Theisen said. "They set students up for success and really allow us to build technical and professional skills. As a peer mentor, I get to pass those skills on."
To further diversify the foundation of knowledge, the IE department teaches courses across a variety of disciplines to give students experience across the board, according the Theisen.
"There are a lot of different focus areas in IE, and we're given classes to really test those out," Theisen said. "Although I haven't loved all of them, it's given me a really good taste of what I do and don't like, as well as the problem-solving foundations that go along with it."
Theisen is now the president of Alpha Delta Pi, after serving in other leadership roles in years prior.
"It's a chapter of 170 women, so you get a lot of different personalities, interests, involvement levels, and that's taught me a lot about how to interact with people, which definitely helps," Theisen said.
After graduation, Theisen would like to pursue a managerial engineering position, and to open her own events center somewhere down the line.