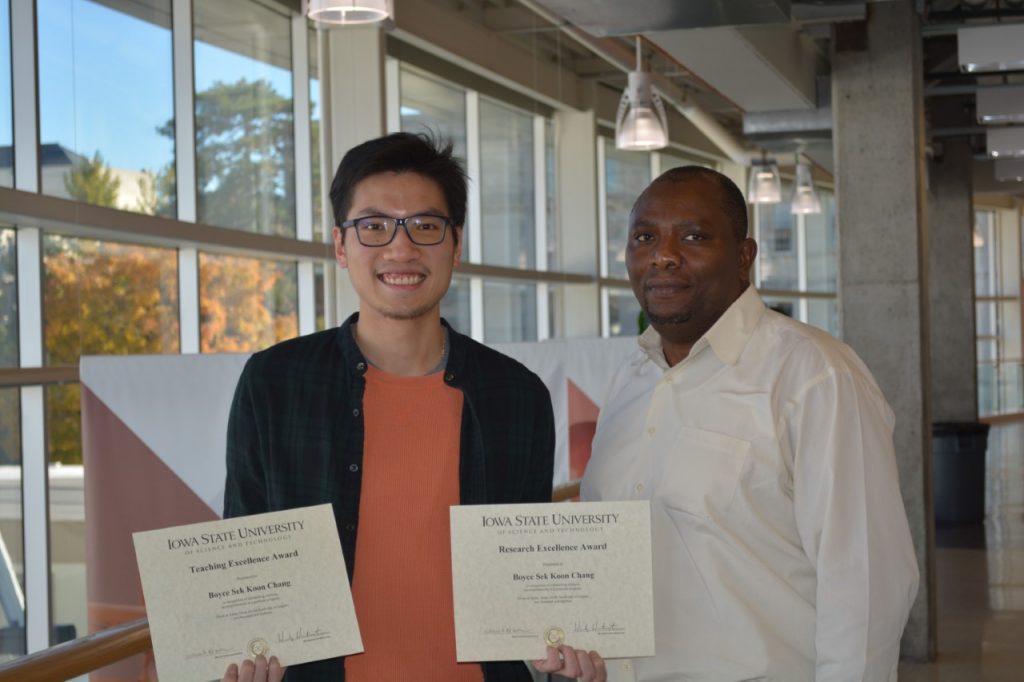 Boyce Chang, a graduate student at Iowa State University's Department of Materials Science and Engineering (MSE), recently received two awards for his work: The Iowa State Graduate College Research Excellence Award and Teaching Excellence Award.
The teaching award recognizes and encourages outstanding achievements made by graduate students in teaching, while the research award recognizes graduate students for outstanding research accomplishments as documented in their theses and dissertations. These students are expected to be academically superior and to develop a well written product based on their work. The intent of these awards is to recognize the "best of the best" of graduate students.
Chang is part of MSE Assistant Professor Martin Thuo's research group, known as Soft Materials and Matter Transport Research Group. After completing his master's degree at Iowa State, Chang began his Ph.D. study in this group, and his research focuses on polymer synthesis with non-traditional systems, such as high energy initiators, high pKa monomers and application of thermodynamics to control the degree of polymerization.
"My work focuses on non-traditional methods to fabricate of polymeric materials," Chang said. "We approach challenges in making these materials by evaluating their fundamental criteria and developing new synthetic pathways."
Speaking to the group's goals, Thuo said, "We are interested in the general area of frugal innovation — that is solving some of the world's challenges with the least amount of resources possible. We are interested in finding new ways to process, apply or modify known materials for new applications. We also extend this work to fabrication of devices or tools based on this frugal innovation approach. Boyce's work has been tackling these problems as related to polymeric materials."
Thuo believes Chang's work makes him deserving of the research award and sets him apart from other students.
"Boyce is a very talented and hardworking student," Thuo said. "He has handled some very challenging projects during his Ph.D. and has also helped significantly shift a few paradigms in materials synthesis. He has also been highly productive in his scholarly publication with more than 15 journal papers, while most students graduate with two to five. He also has two patents filed, and his research has been featured in various news outlets and on the cover of two high quality journals."
Alongside his research, Chang has made a strong impact inside the classroom by teaching and mentoring his students. Since 2015, he has been a LSAMP-IINSPIRE Research Mentor for Minority Undergraduates, and he has also previously mentored and supervised graduate and undergraduate researchers. He has also been a teaching assistant and instructor for the courses in MSE and the College of Engineering.
"Boyce is a good mentor and a good, thoughtful leader," Thuo said. "This is captured in the way he mentors undergraduate students. He is genuinely interested in making others understand what he knows and will go to great lengths to help struggling students. When he was teaching Engineering 160, he took time to learn how to be a good teacher. He prepared well and was keen to consult on how he can become better. The passion for teaching is evident in his career interest and the amount of time he puts to prepare to be a great instructor and mentor."
Chang's success as an instructor is driven by his motivation toward the future.
"I try to put myself into my students' shoes when preparing for classes. My goal is to become a faculty in the future and hopefully emulate the level of guidance and support that I received here at the MSE department of Iowa State," Chang said. "I have had exceptional mentorship from Dr. Martin Thuo [research] and Martha Selby [teaching], and I would also like to give credit to all my group members and collaborators for all their valuable support throughout my research," Chang said. "It feels especially good to be recognized for your hard work."