Help support the ISU AIChE chemical engineering student chapter with a donation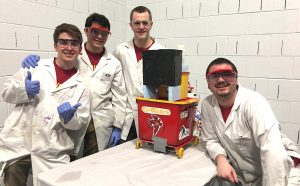 Iowa State's student chapter of the American Institute of Chemical Engineers (AIChE) is Pittsburgh-bound, with the hope of once again turning heads in two important competitions.
The 2018 AIChE Annual Student Conference hosts undergraduate chemical engineering students from around the nation October 26-29 in Pittsburgh, PA, in four days of career information, social events and competitions. While the students take advantage of all the offerings, it's that last aspect – competitions – where one contingent of students is "going for the gold" in AIChE's touted Chem-E-Car distance and research poster competitions, with the group called "Team CY-onara."
Team CY-onara qualified to compete at the nationwide conference by finishing second in the Chem-E-Car distance competition and first in the poster competition at the Mid-America Regional Conference in April, which saw a total of 13 teams compete. This marks the third straight year a Chem-E-Car team from Iowa State has qualified for the national competition.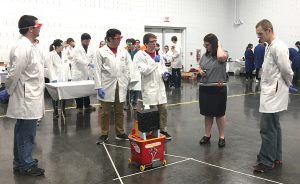 An AIChE Chem-E-Car is a small custom-built vehicle that must be started and stopped by chemical reactions. The total distance the car travels is recorded, with the greatest distance posted. The poster portion of the competition sees the team judged by how well the poster summarizes the details of how the entry is designed and operates.
View the Chem-E-Car in action with promotional video done by the team.
The students who will make up Team CY-onara at the meeting include Daniel Dagle, Benjamin Empric, Grant Johnson, Tommy Krohn, Joe Musielewicz and Stephen Richardson. Other Chem-E-Car participants, from ISU's future team, are Michelle Ampuero and Bailey McCrea. Research presenters from ISU Chemical and Biological Engineering are Sarah Jacobson, Ju Jung and Brandon Vance. Cabinet members of AIChE's Iowa State chapter attending are Martin Asama, Jamie Pryhuber and Robert Sourk.
Grant Johnson will receive the Donald F. Othmer Sophomore Academic Excellence Award at the meeting, which honors one AIChE member in a student chapter who had attained the highest scholastic grade point average during his or her freshman and sophomore years of college.
You can help support Iowa State's AIChE chapter and defray some of the costs connected with attending the Annual Meeting by donating to the group with a funding page through the ISU Foundation. Make your donation and learn more about the project here.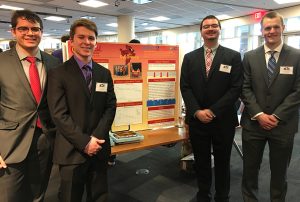 Donations will be accepted through November 8 at 4 p.m.