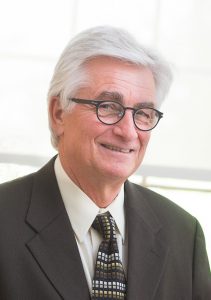 Iowa State University Department of Chemical and Biological Engineering (CBE) alumnus Tim Anderson will be honored by the department with induction into the CBE Hall of Fame October 25 as part of a visit to Iowa State, where he will also be honored by the College of Engineering.
Anderson (B.S. ChE 1973), who is a distinguished professor and Dean of the College of Engineering at University of Massachusetts Amherst, will also receive the College of Engineering's Anson Marston Medal as part of the university's Homecoming Awards Ceremony. His induction into the CBE Hall of Fame will come during the department's annual Awards Banquet.
The CBE Hall of Fame was initiated in 2013 as part of the department's centennial celebration and honors outstanding department alumni. Anderson will have a plaque with his likeness and a summary of his accomplishments placed on the department Hall of Fame wall in Sweeney Hall. A full list of Hall of Fame inductees can be found here.
Anderson has served as dean at the UMass Amherst College of Engineering since 2013. Before then, he was at the University of Florida for 35 years, last serving as associate dean of research and graduate programs in the College of Engineering. He was also founding director of the Florida Energy Systems Consortium, consisting of 11 State of Florida universities dedicated to research, education, and outreach in Florida-centered energy systems. His research is focused on advanced electronic and photonic materials and devices.  He is credited with over 270 publications in his discipline, and he has supervised 70 Ph.D. and 35 M.S. graduates.
He was also the recipient of the ISU College of Engineering Professional Achievement Citation in Engineering award in 2007.