Environmental Engineering Associate Professor Timothy (Tim) Ellis participated this month in the 60th anniversary of Lanzhou Jiaotong University (LZJTU) in China. Ellis is a faculty member in Iowa State University's Department of Civil, Construction and Environmental Engineering (ISU CCEE).
Ellis gave a speech at the celebration of the anniversary. Along with fellow ISU faculty members, Ellis met with LZJTU leadership and with students.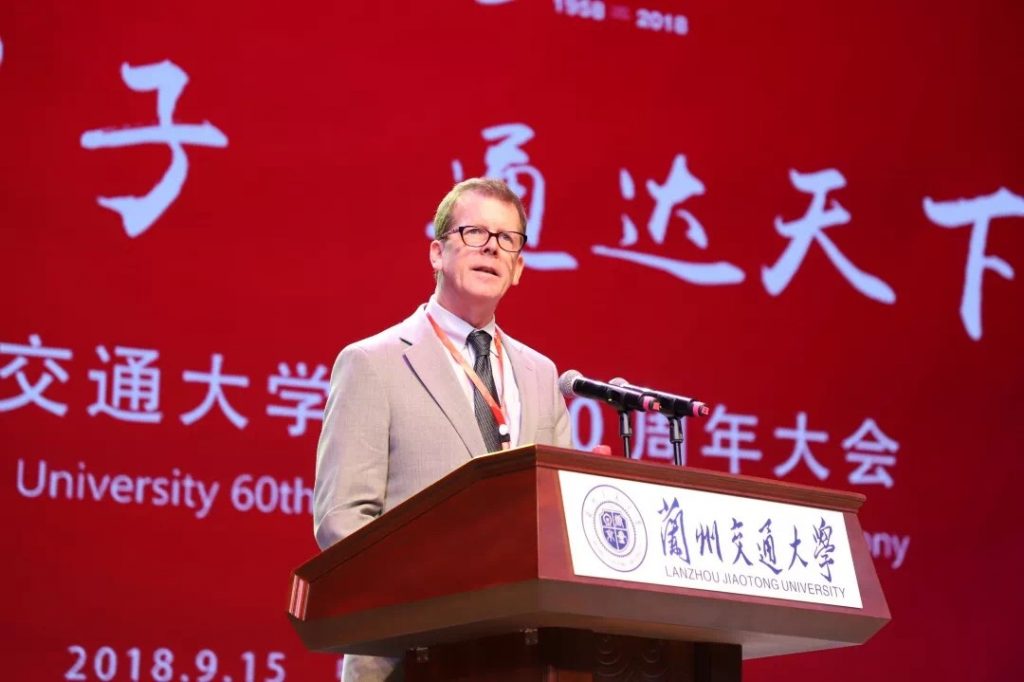 Iowa State University's College of Engineering offers two 2+2 engineering programs, allowing for students at Lanzhou Jiaotong University to study their first two years at Lanzhou and last two years at Iowa State in the United States.
Ellis first became involved with the 2+2 program fourteen years ago as then-chair of ISU CCEE's departmental curriculum committee.
"To be honest, I had no idea where Lanzhou was," Ellis admitted in his celebration speech. "Later that year, however, I had the opportunity to visit Lanzhou Jiaotong University and become a part of what became known as the Lanzhou Jiaotong University and Iowa State University 2+2 program. Since we accepted the first nine students from ISU in 2006, we have had a total of 188 students enter the program."
Ellis continues to serve as the coordinator for the program at Iowa State University.
"It has been a privilege to be an active participant in this partnership with Lanzhou Jiaotong University and join with you in celebrating your 60th anniversary," Ellis said in his closing remarks. "I wish you prosperity and success for the next 60 years."
Follow ISU CCEE on Facebook, Twitter and LinkedIn (search "Iowa State University Civil, Construction and Environmental Engineering" and "ISUConE"). NEW: now follow ISU CCEE on Snapchat and Instagram for the latest updates.