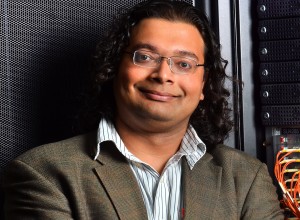 Baskar Ganapathysubramanian, professor of mechanical engineering, has received Iowa State's Pomerantz Award for his accomplishments in teaching and research.
Ganapathysubramanian joined the ME faculty at Iowa State in 2008 as an assistant professor. He was promoted to associate professor in 2014 and to full professor in 2018. He also holds a courtesy appointment in electrical and computer engineering. He holds a Ph.D. and M.S. in mechanical and aerospace engineering from Cornell University and a B.Tech. from the Indian Institute of Technology-Madras
The Marvin A. Pomerantz Award is administrated annually by the Office of the Vice President and Provost and recognizes "[p]rofessors who exemplify outstanding service in teaching, research and/or outreach." Recipients are awarded a $3,500 stipend to support scholarly activities.