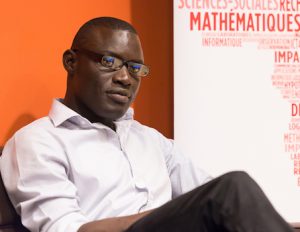 Noble Banadda, affiliate professor of agricultural and biosystems engineering, has been awarded the 2018 Pius XI Medal by the Pontifical Academy of Sciences at the Vatican. The award recognizes Banadda, who is also chair of the Department of Agricultural and Biosystems Engineering at Markerere University in Uganda, for his outstanding scientific research. He was selected in a unanimous decision by the Academy Council from many candidates proposed.
The Pius XI Medal was established in 1961 by His Holiness Pope John XXIII to recognize outstanding scientific merit in the field of the natural sciences achieved by a young scientist under the age of 45. Twenty-eight winners have been awarded the medal since its launch in 1961, and Banadda will be the first African to receive it. Banadda will receive the medal during the next plenary session of the Pontifical Academy of Sciences on November 12-14 at the Vatican under the theme, "Transformative roles of science in society: from emerging basic science toward solutions for people's wellbeing." The actual award presentation will likely take place during the solemn audience granted by Pope Francis to participants of the plenary session, during which Banadda will make a presentation on his most important scientific research.
Banadda holds a Ph.D. in chemical engineering and master's degree in processing engineering from the Katholieke Universiteit Leuven (Belgium) and a bachelor's degree in food science and technology from Sokoine University of Agriculture (Tanzania). In 2007, Banadda won the Cochran Fellowship to undertake postdoctoral studies in chemical engineering at Massachusetts Institute of Technology. In 2012 he was named a full professor at the age of 37 years. He was the first ever full professor, and only one to date, in Makerere University's Department of Agricultural and Biosystems Engineering. Banadda was the youngest fellow to join the Uganda National Academy of Sciences in 2013 and the only person to qualify to be in both the young and senior National Academy in Uganda. In 2015, he was among only seven Africans that qualified as fellows of the prestigious Next Einstein Fellowship. Banadda's research interests are in mathematical modeling, biological systems and renewable energy, and he has served as a visiting professor in universities in Africa, Europe and the U.S. He has authored over 150 peer reviewed scientific papers in international journals.