Nine new early-stage, high-potential research projects are underway with support from Iowa State College of Engineering's Exploratory Research Program. The program provides funding to faculty for novel ideas for new research efforts.
Recent projects funded by the ERP program are:
Ian Schneider, associate professor of chemical and biological engineering, "Topographical Control of Local Stiffness to Direct Cancer Cell Migration."
Schneider's project will focus on "a personalized approach to prescribing cancer therapeutics," as a means to advance the treatment of cancer.
Kejin Wang, professor of civil, construction and environmental engineering, "Developing a Novel Ultra-high Performance Fiber Reinforced Concrete (UHPFRC) for Blast and Fire Resistant Infrastructures."
The proposed project looks to explore a "novel ultra-high performance fiber reinforced concrete for extreme blast and post-blast fire resistances." The study is based on the way structures fail after explosions and the loss of life that is "aggravated by resulting fire."
Ming-Chen Hsu, assistant professor of mechanical engineering department, "Immersogeometric Analysis for Multiphysics Patient-Specific Cardiac Modeling."
Hsu's research will deal with engineered medicine, specifically, personalizing "treatment of cardiovascular diseases in patients." Hsu's team will "focus on creating multiphysics methods that enable solid and fluid simulation of patient-specific cardiac models."
Sri Sritharan, professor of civil, construction and environmental engineering, "Development of Iron-Based Shape Memory Alloys for Structural Engineering Applications."
This study will explore iron-based, less-costly alternatives for shape memory alloys (SMA), a material that can "undergo high inelastic strain and return to its initial shape." Traditional SMAs contain Nitinol, a nickel and titanium compound, which can be expensive to manufacture for structural applications.
Timothy A. Bigelow, associate professor of electrical and computer engineering, "Ultrasound Screening for Ovarian Cancer."
Bigelow plans to develop a low-cost, ultrasound method to screen for ovarian cancer that could "significantly reduce the approximately 14,000 deaths each year resulting from ovarian cancer."
Xinwei Wang, professor of mechanical engineering, "Development of New Energy Transport State-Resolved Raman for Characterization of 2D Atomic Layer Material Interface Thermal Resistance."
In this project, Wang will be testing the application of 2D atomic materials for "suitability for future electronic, piezoelectric and optoelectronic device applications."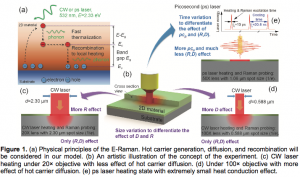 Jiming Song, professor of electrical and computer engineering, "Airborne Patch Antenna Arrays Using mu-near-zero Metamaterials."
Song, along with fellow principal investigator Liang Dong, will examine "next-generation reconfigurable conformal airborne antennas." Typical airborne antennas are "planner and conformal," while the antennas Song and Dong plan to test will be double negative metamaterials.
Wenzhen Li, associate professor of chemical and biological engineering, "Low Grade Waste Heat Recovery by Efficient Electrochemical Heat Engine."
Li's project will explore an electrochemical heat engine (ECHE) and "use adiabatic work exchanges to accomplish temperature cycling." This process plans to overall increase the efficiency of the ECHE.