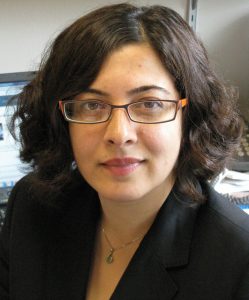 A mechanical engineering faculty member was recently selected to attend a symposium for a prestigious non-governmental engineering organization.
Nicole N. Hashemi, an associate professor of mechanical engineering, was among 84 early career engineers selected to participate in the National Academy of Engineering's (NAE) 24th annual U.S. Frontiers of Engineering Symposium. The two-and-a-half day event will bring together engineers from industry, academia, and government ages 30 to 45 "who are performing exceptional engineering research and technical work in a variety of disciplines."
Hashemi's research focuses on "developing new and innovative small scale fluid systems for applications in materials processing and analysis."
"I am looking forward to learning from my peers at the symposium and exploring the impact of engineering on society," she said.
Hashemi, who joined the ME faculty at Iowa State in 2011, was also selected to attend the Kavli Frontiers of Science symposium hosted by National Academy of Sciences in 2013.
"At the 2013 Kavli Frontiers of Science symposium, I had the unique opportunity to discuss research ideas with bright scientists across a wide variety of fields. It also helped broadening my view as a researcher," she said.
Hashemi was the only researcher from Iowa State University to be invited to this year's symposium which will take place Sept. 5 through 7 at MIT's Lincoln Laboratory in Lexington, Mass.
"It is critically important to bring young engineers from different technical areas together to spark innovation," said NAE President C. D. Mote, Jr. "The Frontiers of Engineering program does this by creating a space for talented engineers to learn from each other and expand their technical perspectives early in their careers. Congratulations to this year's FOE participants."
Sponsors for the 2018 U.S. Frontiers of Engineering include The Grainger Foundation, National Science Foundation, Defense Advanced Research Projects Agency, Air Force Office of Scientific Research, DOD ASDR&E Laboratories Office, Microsoft Research, and Cummins.