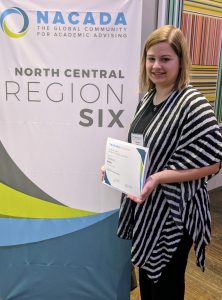 Department of Chemical and Biological Engineering academic advisor Janessa Boley was recently presented with the Excellence in Advising — New Advisor award from the National Academic Advising Association (NACADA) Global Community for Academic Advising. It was presented at the group's Region 6 conference in Minneapolis.
The Outstanding New Advisor Award is presented annually to individuals who have demonstrated qualities associated with outstanding academic advising of students and who have served as an advisor for a period of three or fewer years. Criteria include strong interpersonal skills; a mastery of institutional regulations, policy and procedures; availability to advisees, faculty or staff; frequency of contact with advisees; evidence of student success rates and more.
Boley started in her position in CBE in 2015 and since that time has become part of the department's team that coordinates the student peer mentor program; was part of an advisor-student team that received the Outstanding Innovation Award for a new transfer student program with the department's learning community; and, along with fellow advisor Adam Dane and professor Monica Lamm, had an article they authored on diversity training for students published in Chemical Engineering Education magazine.
More information about the NCADA Outstanding New Advisor Award is available here.