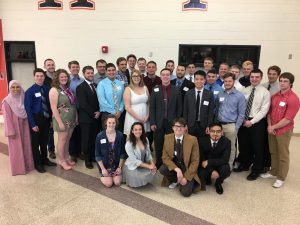 Department's 145 graduates share success with families, friends during pre-commencement events
On Saturday, May 5, Iowa State University's Department of Civil, Construction and Environmental Engineering (ISU CCEE) hosted its pre-commencement receptions.
This spring semester, ISU's Construction Engineering Program graduated 45 students, and ISU's Civil Engineering Program graduated 100 students. Families and friends gathered at Ames Middle School and Ames High School for the ceremonies, respectively.
Every semester, the student who brings the most family members to his or her pre-commencement reception is recognized with the ISU CCEE Family Enthusiasm Award. One student is recognized from each program.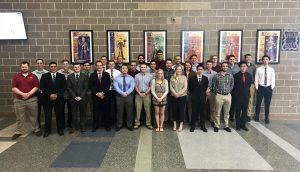 This year, construction engineering graduate Rogelio Serrano took home the award. At the civil engineering reception, Branden Maurstad and Jonathan Hagenow tied for the award. Serrano brought 16 family members with him to celebrate his graduation. Both Maurstad and Hagenow brought 17 members.
Want more pre-commencement news? Take a peek at our Spring 2018 ISU CCEE Pre-Commencement Facebook album, where you can see more celebration pictures from graduation day. And follow us on Facebook, Twitter, and LinkedIn (Iowa State University Civil, Construction and Environmental Engineering and ISUConE).