Two alumni from the Department of Electrical and Computer Engineering (ECpE) at Iowa State University and Rockwell Collins, an industry member of  ECpE's external advisory council, were honored April 20 at Iowa State's 2018 Distinguished Award Celebration.
The celebration is an annual event hosted jointly by the Iowa State Alumni Association, who presents the Distinguished Alumni Award and the Iowa State Foundation, who presents the Honorary Alumni Award and Order of the Knoll Awards. These are the university's highest awards granted.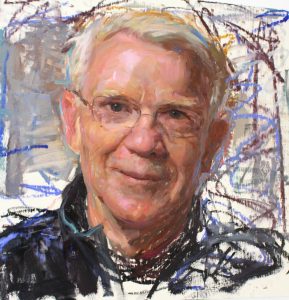 Edward (Ed) McCracken, who was granted a bachelor of science in electrical engineering in 1966 from ISU, was presented the Order of the Knoll Campanile Award by the ISU Foundation. He is a retired CEO of Silicon Graphics, Inc., known for launching the world of "virtual reality." Under his leadership, the company sparked the growth and development of computers designed specifically for the creation and manipulation of 3-D images. These were used extensively in the movie and television industry, including "Forrest Gump" and "Jurassic Park."
McCracken was named Executive of the Year in 1995 by R&D magazine, presented the National Technology Medal award by President Bill Clinton, has received the Professional Achievement Citation in Engineering award from the Iowa State College of Engineering in 1992 and is a recipient of the Distinguished Alumni Award. McCracken's wife, Ana, who holds a B.S. in fashion merchandising from ISU, was also honored with this award.
Richard (Dick) Horton earned electrical engineering undergraduate, graduate and doctoral degrees from Iowa State (BSEE 1962, MSEE 1963 and Ph.D. 1967) and was presented the Order of the Knoll Faculty and Staff Award by the ISU Foundation. Horton retired as professor emeritus of ECpE in December 2004.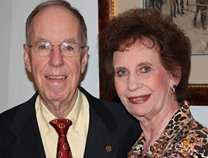 His wife, who earned a B.S. in child development from Iowa State, also received this award. Together, the Hortons pioneered PC software, Compute-A-Rush, a program for Panhellenic and Interfraternal Council membership recruitment. This software is structured for formal recruitment and bid matching through D&D Digital Systems.
The Hortons previously have been honored with Cy's Favorite Alum award, the Iowa State Alumni Association Alumni Service Award, and the Alumni Medal, a premier award given to alumni by the ISU Alumni Association to recognize alumni for long, loyal service to the university through alumni related activities.
Rockwell Collins, a member of ECpE's External Advisory Council (EAC), received the Order of the Knoll Corporate and Foundation Award. ECpE's EAC is a group of industry and academic experts, as well as alumni of the department, who advise the department on ways to improve and ensure their degree programs continue to excel and meet the needs of their employers in industry and academia.
See a recording of the April 20 ceremony here.