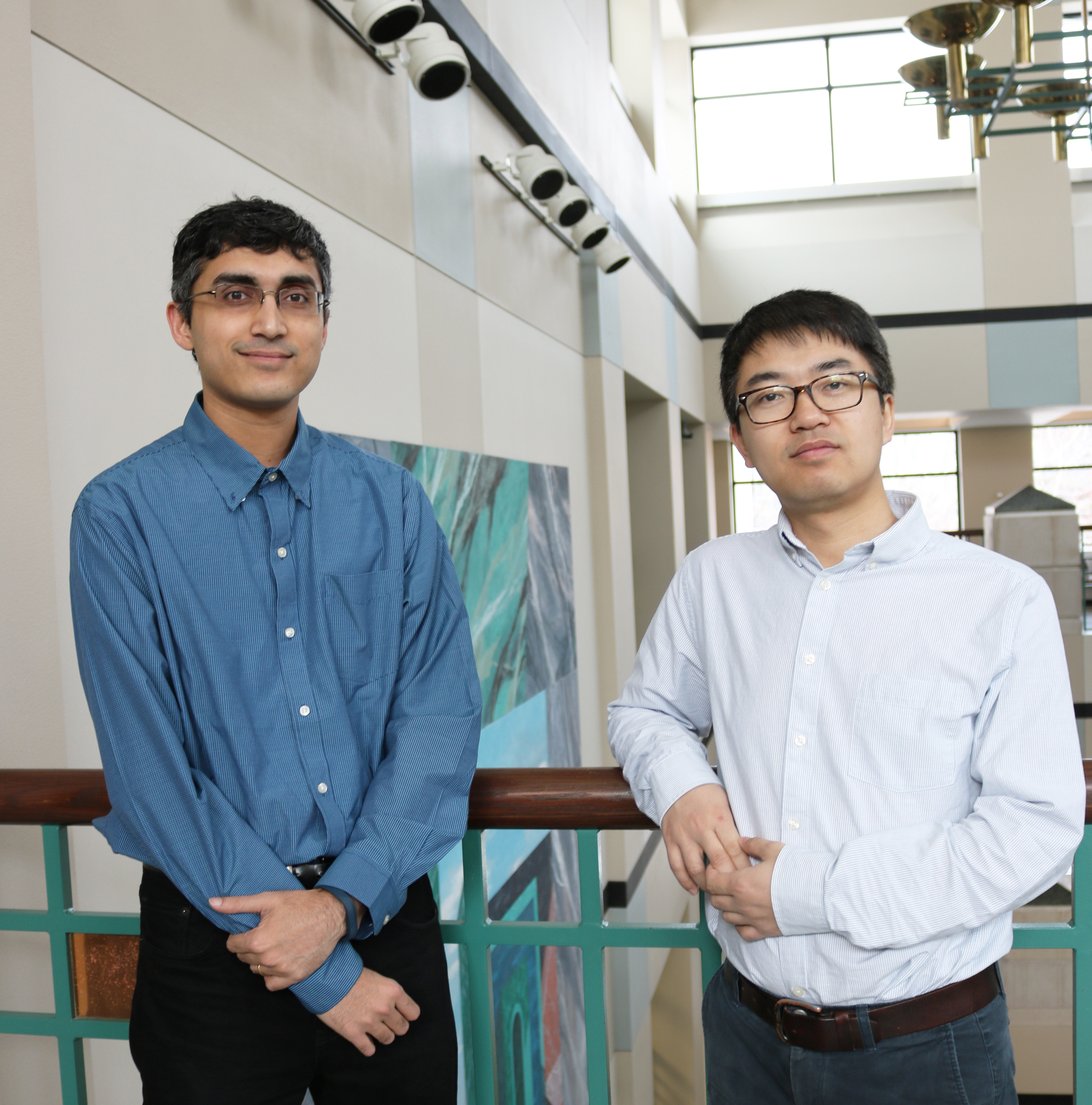 Iowa State's College of Engineering is celebrating the seven CAREER awards received by College faculty. "This year, three assistant professors of ECpE competed for the prestigious NSF CAREER award, and two were selected," Professor and Palmer Department Chair Ashfaq Khokhar said. "This is indeed a phenomenal success! The history of national level recognition of young faculty talent in ECpE at ISU continues and bodes well for the years to come." Click here to read about the other five awardees. Story by Megan Sager and Emily Benda.
Chinmay Hegde
Chinmay Hegde, assistant professor with the Department of Electrical and Computer Engineering (ECpE) at Iowa State University, has received the National Science Foundation's (NSF) CAREER award for advances in graph learning and inference.
"The National Science Foundation CAREER award is a terrific honor," Hegde said. "I am very thrilled and very fortunate to receive it."
The five-year award will support the research of Hegde's group through 2023. The NSF grants CAREER awards, some of the most competitive honors from the organization, once a year in support of early-career faculty who have the potential to serve as academic role models in research and education.
"The award is an important milestone in the career of any junior faculty in STEM [Science, Technology, Engineering and Math] such as myself," Hegde said. "The support provided by NSF will be very useful to me in terms of building and sustaining my research and educational program."
His research is working toward bridging the gap between practical aspects of analyzing social network graphs, transportation networks and artificial intelligence (AI) systems and the theoretical tools for understanding and analyzing these graphs. The modern "big data" era is posing a renewed set of engineering challenges for which there are currently no good solutions.
Hegde and his team of students are planning to develop a series of algorithmic tools that will enable graph-based data processing in the big-data regime. With a focus on designing algorithms that always work as promised, the team's goal is to enable safety of reliability of higher decision-making systems. The group will look primarily at better approaches for monitoring roadway congestion and identifying traffic incidents in a timely manner; root-cause analysis of complex events in social networks; and designing a better personalized learning system, aiming to lower educational costs and increasing quality nationwide.
The funding Hegde will receive will go toward supporting the research and education of the students in his lab.
In September 2017, Hegde was named a Black & Veatch Building a World of Difference Faculty Fellow in Engineering for his research focusing on algorithmic aspects of machine learning. It involves designing algorithms for extracting meaningful information from massive amounts of data and quantifying when and how these algorithms work.
"I would like to specifically acknowledge the support of the leadership in ECpE, as well as the College of Engineering," Hegde said. "They helped me kickstart my career here, and I am very grateful."
Arriving in Ames just two years ago, Hegde has taught Electrical Engineering 324: Signals and Systems II, Electrical Engineering 525X: Data Analytics in Electrical and Computer Engineering and Computer Engineering 310: Theoretical Foundations of Computer Engineering.
"I would like to credit our fantastic graduate and undergraduate students," Hegde said. "The success of the project really rests on their very hard work."
Before coming to Iowa State, Hegde was a postdoctoral associate in the Theory of Computation  group at MIT. He received his Ph.D. at Rice University and his Bachelor of Technology in Electrical Engineering from the Indian Institute of Technology.
"I think it is a truly exciting time to be a member of the broader community of data science, especially here at Iowa State," Hegde said.
Neil Gong
Neil Gong, assistant professor with the ECpE department at Iowa State, also has received the NSF CAREER award for his project titled, "Graph-Based Security Analytics: New Algorithms, Robustness under Adversarial Settings, and Robustness Enhancements." This research intends to develop security analytics using graphs to better protect systems from malicious websites or social networks. 
Graph-based security analytics create visual datasets where researchers can see account patterns and pinpoint where problems arise. In the case of Facebook, each user can be seen as a node, or a point on a graph. These nodes connect to other nodes in their friend networks, creating tree-like visuals on a graph. If a malicious account is created, it's seen as a lone point on the graph because there aren't any friend connections leading to it. This can make it easier for researchers like Gong to identify harmful accounts.
"Even in the case of machine security, the data still will look different if harmful software appears in the system," Gong said. "Uncompromised machines will all connect in the graph dataset, but if there is a machine that has a malicious network, it will be separate from the others."
After developing algorithms that identify malicious nodes, Gong's team will test different goals and capabilities to evade detection. Then they will develop methods to recognize attacks and create attacker-resistant link prediction algorithms with other techniques that add noise to graphs in ways that confuse attackers.
In the past, general-purpose graph algorithms and graph-based machine learning methods have had success when applied to security problems. However, because these are generic methods, there are faults in the analytics. Gong and his research team will develop robust algorithms to enhance the graph-based security analytics so the algorithms are more effective for cybersecurity issues.
"There are unique challenges when it comes to cybersecurity," Gong said. "There is often a determined hacker who can adjust their attacks to our defenses. This means we need more advanced algorithms to prepare for these adversaries."
The five-year award will fund Gong's group to pursue the interdisciplinary research through 2023. Gong said the award will also help fund his graduate student assisting in the research.
The results of Gong's research also will be integrated into an existing course on data-driven security and a new graduate seminar course on collective classification. A K-12 summer program and cybersecurity competition organized around detecting malicious activity in networks will also benefit from this research.
"I am proud to have won this award," Gong said. "I thank the department and university for supplying our team with enough resources to support the beginnings of our research."