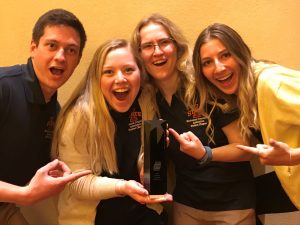 Mechanical Contractors Association of America awards Student Chapter, Educator of the Year to Iowa State students and faculty member
On Mar. 28, the Mechanical Contractors Association of America (MCAA) awarded the ISU Mechanical Contractors Association (ISU MCA) with the MCAA Student Chapter of the Year. Brad Perkins, advisor of ISU MCA and senior lecturer of construction engineering (ConE) at Iowa State, was awarded MCAA Educator of the Year. MCAA leadership presented both awards at its annual national convention, held this year in San Antonio, Texas.
"I was in complete shock when I heard our chapter won MCAA's Student Chapter of the Year," said Stephanie Shah, ISU MCA's Secretary. "Like the rest of my organization, we've all worked so hard to make a name for Iowa State University. It was extremely humbling to see that hard work paid off."
Shah wasn't the only one who felt shock at receiving the honor. Riley McLaren, another member of ISU MCA leadership, said the recognition felt "surreal." What is very concrete are the opportunities available to students who choose to take part in the organization.
"The best part about ISU MCA, with no doubt, is the opportunity and professional network it provides," McLaren said. "Every student can benefit from MCA."
The student leadership is also agreed when it comes to praise for their advisor.
"Brad Perkins deserves Educator of the Year for more than his role in our student chapter," said ISU MCA Treasurer Brittany Gronewold. "He is such a great influencer in the ConE Program, encouraging students to join the mechanical industry, and giving opportunities to so many students."
Perkins has been advising the group for years and was a student member. Having seen the group grow over the years, he sees much potential for students interested in fostering successful careers.
"If you look at the students in our organization, they are all getting real-world, industry experience," he said.
As a part of the recognition, the group will receive $3,000 to use toward scholarships and other organizational costs. Overall, the big win isn't just the recognition of chapter of the year, but also the networking opportunities.
"We don't go expecting to win," said Paige Taylor, event coordinator for ISU MCA. "It's the building of relationships that is important."
---
Follow all of Iowa State University's Department of Civil, Construction and Environmental Engineering news by following us on Facebook, Twitter and LinkedIn (Iowa State University Civil, Construction and Environmental Engineering and ISUConE).