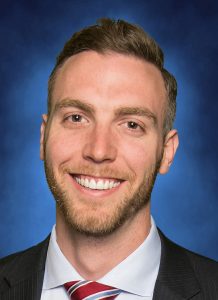 AJ Richards has joined the Department of Aerospace Engineering in the role of fiscal coordinator. He will work with the department budget, post-awards, grants, purchasing and more.
AJ is an Iowa State alumnus, obtaining a B.S. in business and management from the Ivy College of Business in 2013 and a master of business analytics degree in 2017. He was previously employed by the Iowa State University Foundation in a financial role.
Originally from Minnesota, AJ lives in Ankeny and enjoys outdoor activities, sports (especially hockey – he plays in an adult league in Des Moines), and is a big Cyclone sports fan as well.
"I'll be learning a lot of new duties and procedures, and looking forward to the challenge," he said.