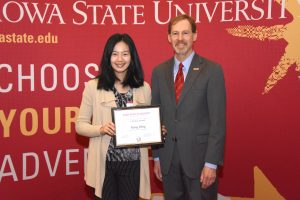 Yijing Ding, coordinator for the Center for Bioplastics and Biocomposites (CB²), was recognized on March 22, 2018 at the annual Professional and Scientific Council (P&S) CYtation Awards breakfast. She was one of 16 individuals and four teams across the university to receive the P&S CYtation Award presented by Iowa State University Senior Vice President & Provost, Jonathan Wickert.
"These individuals are wonderful representations of work that Professional and Scientific employees are engaging in throughout our university and were nominated by their peers for going beyond their position duties, doing something extraordinarily well, and for making a difference," said Professional and Scientific Council President, Jessica Bell.
Ding joined the National Science Foundation funded center in September 2015. David Grewell, Director of CB² and Professor in agricultural and biosystems engineering, noted Ding's commitment to the center, the Department of Agriculture and Biosystems Engineering, and the College of Engineering.
Grewell stated that Ding has a great attitude and goes above and beyond in all given tasks.
Ding was selected to receive the P&S CYtation award for her outstanding ability to resolve issues with creative and original solutions through her strong leadership and innovation. She developed and programmed a webpage that allows industry partners to vote online. This greatly reduced the time and effort required for email voting while also promoting a more standardized and clear voting mechanism. She also developed a secure webpage that allows industry partners to share information directly to CB² as well as search and retrieve archived reports, a goal not realized until Ding took on the challenge and found a streamlined and creative solution.
Ding has also been instrumental in executing a highly successful Research Experience for Undergraduates (REU) program for eleven undergraduate students. She works to promote a successful cohort experience that enhances the student outcomes.
"While I know that she is focused on many daily activities, I feel that her support is undivided. Yijing is also continuously striving to expand her skills and knowledge to better serve the center and the department. Her continuous dedication, passion, professionalism, and her sustained efforts for professional development make her uniquely positioned to be a model citizen for all, and these personal attributes and visions will allow her to continuously make future contributions campus wide," said Grewell.